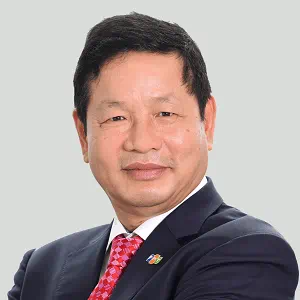 Dear Esteemed Shareholders, Customers, Partners, and all Employees,
With the impact of the COVID-19 pandemic still lingering, 2022 marked as a gloomy and uncertain year for the world economy. During the 2020 to 2022 period, the world economic growth rate was between 1.6% and 1.8%, half of the prior term's average.

FPT 2022 – A ray of sunshine in a gloomy winter
According to the World Bank's report titled "Is a Global Recession Imminent?" published in September 2022, consensus growth projections for 2022 and 2023 have been downgraded for most countries–more than 90 percent of advanced economies and 80 percent of emerging markets and developing economies. In Vietnam, tens of millions of people were affected by elevated commodity prices and the energy shortage. In addition, the economic downturn also threatened to tip them over the edge into income reduction and unemployment.
However, the information technology (IT) industry appeared to be in a strong position. According to the latest forecasts by Gartner, global spending on IT was estimated to have reached 4.5 trillion USD in 2022, up 3% over the previous year. Fortunately, Vietnam's economy recovered impressively despite the challenges posed by the pandemic. GDP exceeded 400 billion USD, with a growth rate of 8.02% in 2022, which represented an eleven year high.
Amid the gloom surrounding the economy and labor market, FPT experienced a warm ray of hopeful sunshine in its quest to grow. Its total revenue reached 44,010 billion VND, an increase of 23.4%; profit before tax was 7,662 billion VND, up by 20.9%. The Corporation has constantly been growing and enhancing the training of its skilled workforce in order to make the most of every available opportunity. These achievements came about as a result of well executed strategies and the relentless effort of FPT's board and all our employees working in 29 countries and territories around the world.
The Technology sector exceeded a value of 1 billion USD, contributed 58.5% of total revenue and 44% of profit before tax for the Corporation, up 23.4% and 22.4% respectively over the same period last year. For the first time, FPT's new sales in international markets hit 1 billion USD after 23 years of global expansion, which consolidates Vietnam's relevance on the global tech map and its prestige in holding a leading position.
Besides the economic expansion, the launch of FPT's microchips was one of the top 10 IT Headlines of 2022 in Vietnam. Moreover, it represented our endeavors to materialize the semiconductor dream of many generations of Vietnamese.

Pursuing excellence using data and innovative startups
At the 2022 Annual General Meeting of Shareholders, FPT set out its development strategy with a data-driven and customer-centric orientation and disruptive technological solutions. Accordingly, the Corporation deployed a series of startup projects based on leading technologies such as AI, Blockchain, Cloud, and Big Data.
Hundreds of startup projects are carried out within the Corporation based around four fundamental human needs: Food, Education, Work, and Healthcare. Some novel solutions in our projects have even greatly impressed foreign customers, contributing to showcasing Vietnamese ingenuity on the global stage.
Domestically, tens of thousands of business process automation robots (akaBot) are working day and night serving thousands of businesses globally; Pay TV (FPT Play) brings "food for the soul" to millions of families; Cloud computing technology using artificial intelligence (FPT Cloud) has tens of millions of users. In addition, products, solutions, and services under the "Made by FPT – Make in Vietnam" ecosystem recorded 1,150 billion VND in revenue, an increase of 54.3% over the same period.
I can confidently say that FPT has completed all its pledged targets for the fiscal year 2022 with an EPS of 4,429 VND/share, a growth of 22.4%. So again, FPT firmly maintains its position as the most valuable technology brand in Vietnam and has developed an even stronger foothold in the international market.

2023 – The year of materializing the mission of building a happier future
Commemorating the proud milestone of its 35th anniversary, FPT Corporation targets aggressive growth rates of 18.8% in revenue to 52,289 billion VND and 18.2% in pre-tax profit to 9,055 billion VND. Furthermore, we aim to bring joy to people's lives with a FPT 2023-2025 corporate strategy titled DC5-135.
DC5 stands for Digital Conglomerate 5.0, a digital union with an ultimate goal of creating satisfaction for individuals, success for organizations, and value for shareholders. It enhances the personal enjoyment of being thoroughly understood and cared for. It helps achieve excellence in each organization associated with a successful digital transformation. Thus, DC5 opens an infinite future of possibility for FPT, bringing benefits to each one and success to every organization associated with its aims.
DC5-135 also implies FPT's ambitious goal of having one million employees dedicated to digital transformation within the next 13 years by 2035.

To take a holistic view of FPT over the past year, I would like to express my heartfelt gratitude to the entire team for their unwavering efforts and dedication. And finally, let me extend my appreciation to all our esteemed shareholders, customers, and partners for their invaluable support.
Wishing you good health, happiness, and success always!
Yours faithfully,
Chairman's BOD
TRUONG GIA BINH