FPT accompanies 500 businesses to make breakthroughs in operating performance
The seminar of "Breakthroughs in operating performance" by FPT was held online with the participation of more than 500 business leaders in many fields such as manufacturing, commerce, real estate, finance - banking etc.
•
05/08/2020
×
The seminar of "Breakthroughs in operating performance" by FPT was held online with the participation of more than 500 business leaders in many fields such as manufacturing, commerce, real estate, finance - banking etc. In the series of events themed "From survival to prosperity", the seminar continued the journey of accompanying enterprises initiated by FPT to support the business community in taking on challenges through the application of digital transformation into existing operational processes.
The series of seminars taking place since the beginning of July has attracted the attention and attendance of thousands of business representatives with hundreds of questions. Many difficult questions and problems have been fully answered by leading experts from some consulting companies such as Deloitte, EY Vietnam etc and FPT.
At the same time, operation optimization and breakthrough performance have been fully and thoroughly described. All are well-prepared for businesses to seize opportunities and make breakthroughs, overcoming the challenges in the current context.
In addition, there is a series of in-depth online consultations focusing on practical solutions such as make breakthroughs in operation performance with artificial intelligence with FPT.AI; duo solutions for remote contract signing and digital signature for businesses - FPT.eContract and FPT.CA; Automatic task assignment - remote management with FPT SPro and FPT SFlash.
Operation optimization always drew much attention from businesses, especially in the current context. With a hands-on approach focusing on outstanding issues as well as business needs for better operation performance, the series of seminars provided an overview of the principles, roadmap as well as technical advice and solutions that each enterprise can use to solve their internal problems.
At the event, the vital issues for businesses were dissected, analyzed, discussed, and detailed by the experts from FPT and their partners, such as "AI and RPA application for finance - insurance - banking enterprises", "Customer retention in a time of crisis with Blockchain" and "Breakthroughs in operation performance".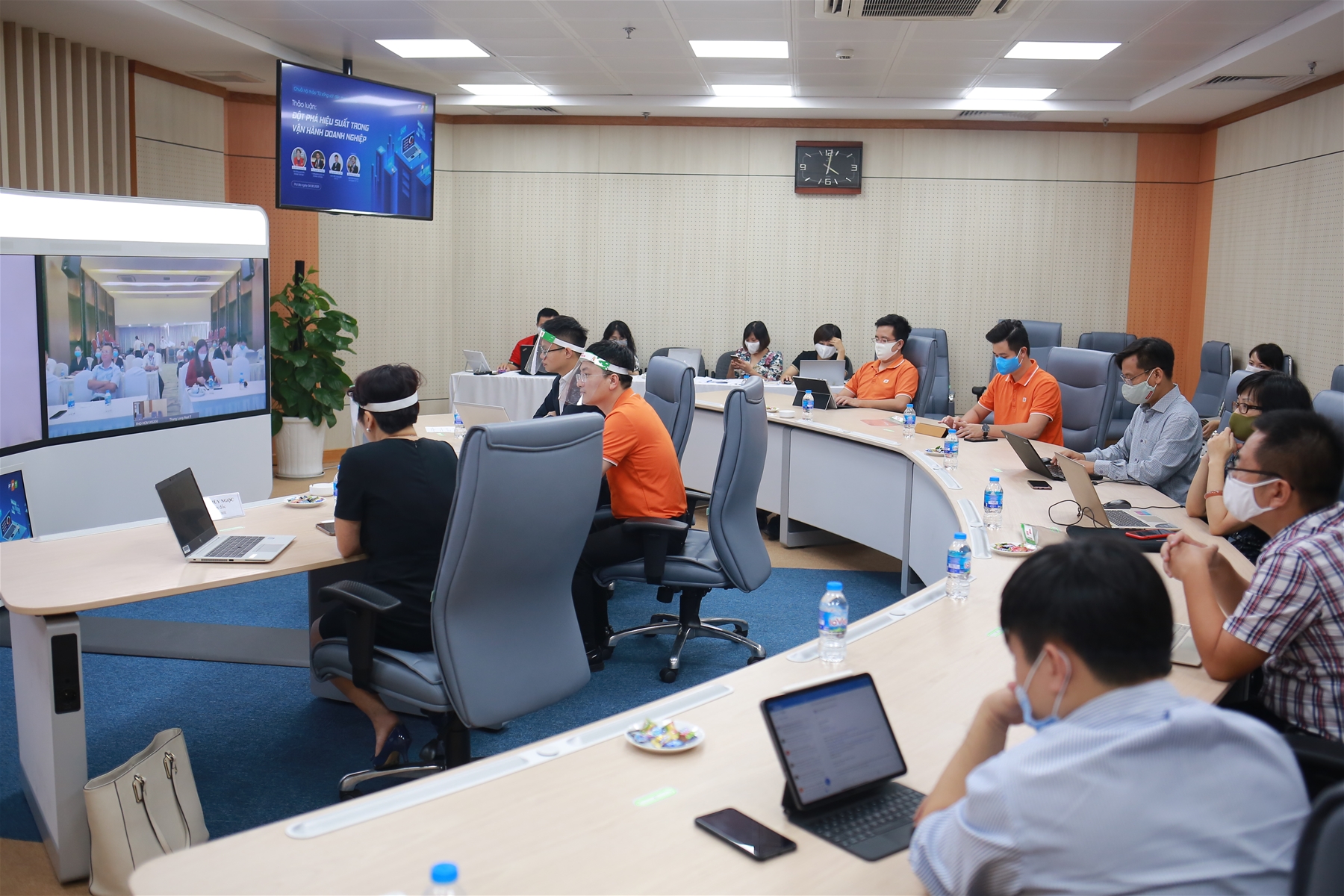 Many questions about business support solutions were answered online
This is also the first time that FPT has tested the mixed online and traditional model for large-scale seminars and in-depth consultations in the complicated situation of Covid-19.
From the perspective of a DX expert with a lot of experience in applying technologies to business processes and operations, FPT's representative also helps businesses realize that the key factor in the process of digital operation is speed - speed of deployment, connectivity, management, and efficiency evaluation - the prerequisite for the survival and prosperity of a business at present. Applying technologies or performing digital transformation of operational processes, businesses will gain a huge competitive advantage with quick and timely management, then optimizing costs and improving customer experience. Businesses also better understood the process of transforming traditional models to digital ones with the visual and practical examples.
At the same time, the digital operating model is also introduced as a practical, smart model with a set of 16 solutions researched and developed by FPT team based on business needs. Some of the most outstanding solutions include akaBot – a robotic process automation (RPA) solution; FPT SPro and FPT SFlash duo, a secret to digitizing standardized and unstandardized processes in enterprises, FPT.eContract etc. These help increase productivity by up to 80%, saving up to 60% of costs and 90% of time, ensuring a smooth and seamless business.
At the event, the experts from Deloitte, EY Vietnam, CEM Partner introduced and advised businesses on how to carry out effective digital transformation, optimize operation, manage and retain loyal customers. Digital operation is the key trend that helps businesses open up many opportunities and potentials that have never been experienced.