FPT Welcomes Its 60,000th Employee
•
03/01/2023
×
On the first working day of 2023 - January 3, FPT Corporation welcomed the 60,000th employee. More wonderfully, the event marked the year FPT turned 35, aiming to achieve one million employees - one million "digital transformation warriors" by 2035.
Its 60,000th employee was Ms. Watanabe Hirona (born in 1984), who worked at FPT Japan under FPT Software (a subsidiary of FPT Corporation). Along with her were the 59,999th employee - Ms. Le Thi Quy (born in 2000), who joined FPT Retail (Long Chau) Long Thanh, Dong Nai (an affiliate company of FPT Corporation) - and the 60,001st employee - Mr. Nguyen Trong Duc (born in 1995) who joined FPT Telecom (a subsidiary of FPT Corporation).
Ms. Watanabe Hirona is a Systems Engineer working in Fukuoka, Japan. She affirmed: "I am very honored to be the 60,000th employee of FPT. It is such an incredible experience in my career path. FPT is a warm and friendly work environment that provides development opportunities for staff. I hope to be a puzzle piece to contribute to FPT's goal of having one million employees by 2035. This is a special mission, and I myself will appreciate it and strive for it."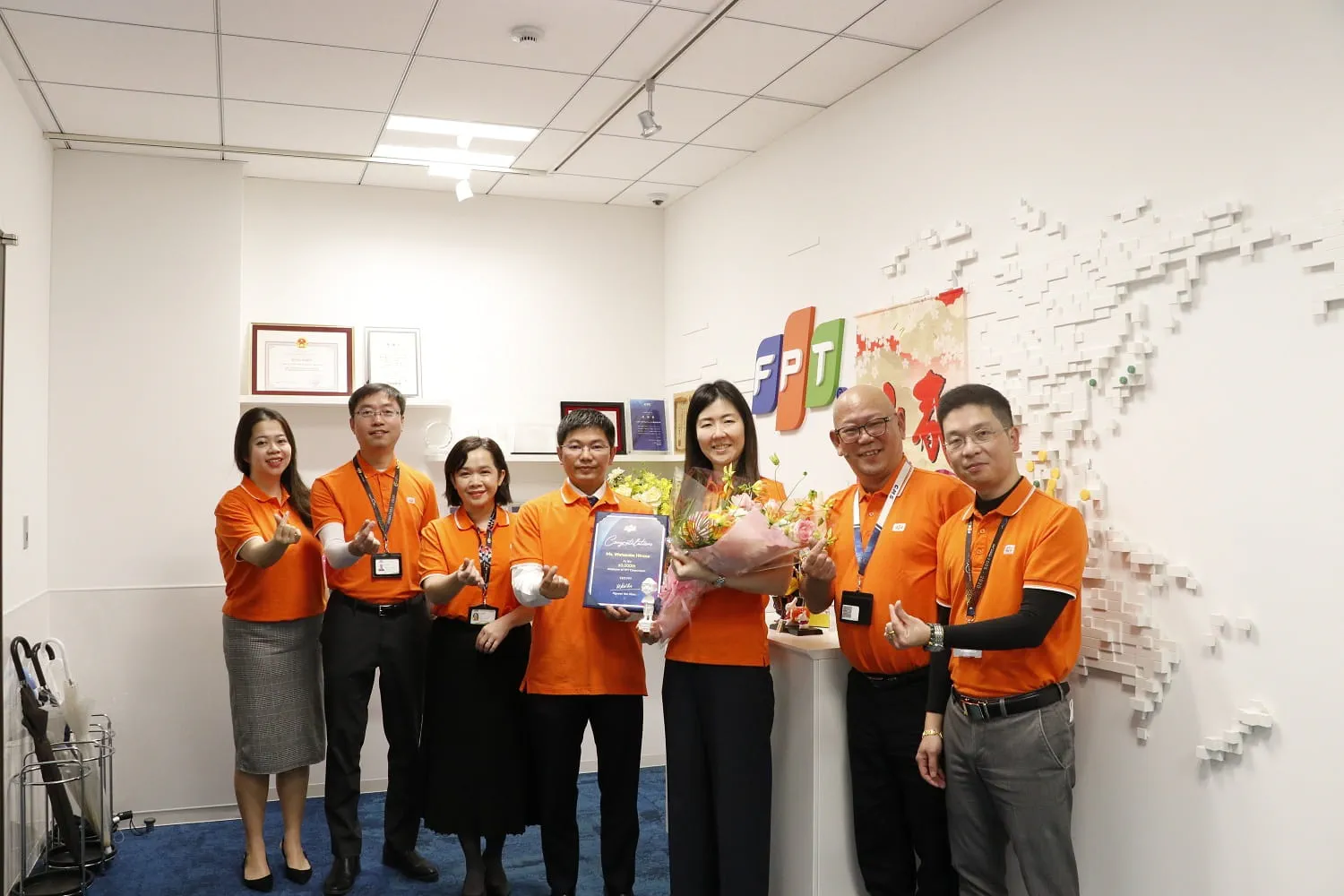 The representative of FPT Japan under FPT Software (a subsidiary of FPT Corporation) welcomed Ms. Watanabe Hirona to join as a Systems Engineer (the third one on the right-hand side).
Like Ms. Watanabe Hirona, Ms. Le Thi Quy and Mr. Nguyen Trong Duc also had good first impressions of FPT's working environment. The newbies all hoped that FPT would be the ideal destination to enhance their talents and build their careers.
According to Mr. Chu Quang Huy - Chief Human Resources Officer of FPT Corporation, welcoming the 60,000th employee was a remarkable milestone to celebrate FPT's 35th anniversary. It also highlighted FPT's goal of having one million employees by 2035. "As a pioneering innovative technology corporation, we identify people as a key success factor. We know that in a joyful working environment, employees should get trained, be given opportunities, have their needs met, be well-recognized, and, most importantly, show their talents. Therefore, FPT Corporation has built a comprehensive welfare system that meets not only the financial needs but also the physical, mental, academic, and community connection needs of its staff. We hope these policies will create countless chances for employees globally to improve their careers and become global citizens."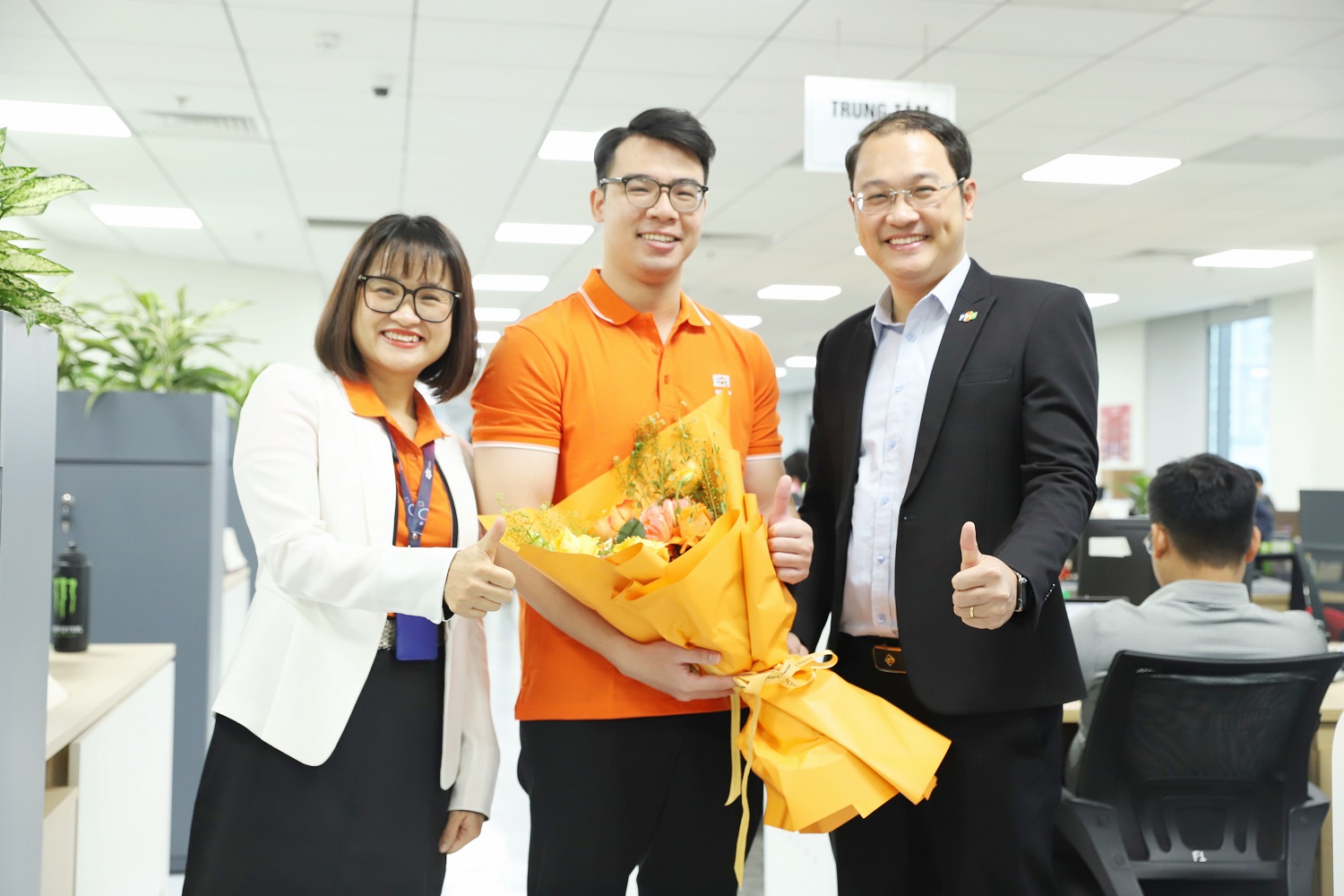 FPT's 60,001st employee, Mr. Nguyen Trong Duc, born in 1995 (middle), joined FPT Telecom in Hanoi.
In addition, FPT Corporation also implemented distinctive policies, such as programs to help employees pay for houses and cars. Recently, FPT has given more than 1,800 houses and autos to its employees. Furthermore, FPT was always willing to welcome talents joining hands to create and pursue happiness.
In the early days of its establishment, FPT's ultimate goal was set out by Chairman Truong Gia Binh, which was to become a new type of organization that respected each employee, encouraged them to develop, and allowed them to assert themselves. Hence, the Corporation would be able to nurture high-quality resources to master new technologies and contribute to building a mighty Vietnam.
Until now, FPT has 60,000 employees working in 29 countries around the world. In addition, 3,123 employees are working abroad, and 1,888 out of them are foreigners of 55 nationalities.
In 2022, FPT set its plan with revenue growth of 19%, reaching VND 42,420 billion and PBT increased by 20.2% to VND 7,618 billion. It has completed nearly 93% of the revenue target and 94% of the target of PBT after 11 months. After 23 years of going global, FPT has finally achieved a milestone of approximately USD 01 billion from the international markets this year, an increase of over 30%.
It owns the Made-by-FPT ecosystem with more than 200 products, services, and solutions. Over the past three decades, FPT has always devoted itself to researching and developing technology platforms, products, and solutions to serve humanity and make the world a better place to live while growing the country, enterprises, and communities.