FPT IS cooperates with Bosch Vietnam to develop intelligent transportation
On November 26th in Hanoi, Bosch Vietnam and FPT Information System (FPT IS) signed an agreement to cooperate in developing intelligent transportation solutions in Vietnam, Cambodia and Myanmar with a vision toward 2030.
•
27/11/2019
×
On November 26th in Hanoi, Bosch Vietnam and FPT Information System (FPT IS) signed an agreement to cooperate in developing intelligent transportation solutions in Vietnam, Cambodia and Myanmar with a vision toward 2030.
FPT IS plays the role of a system integrator, technology solution and service provider, while Bosch Vietnam provides equipment (hardware), management platform for security and safety monitoring system up to 200,000 points. Both parties have worked together to develop and implement smart solutions that match the characteristics of each key city and locality in order to solve current problems towards safe transportation and secure society model.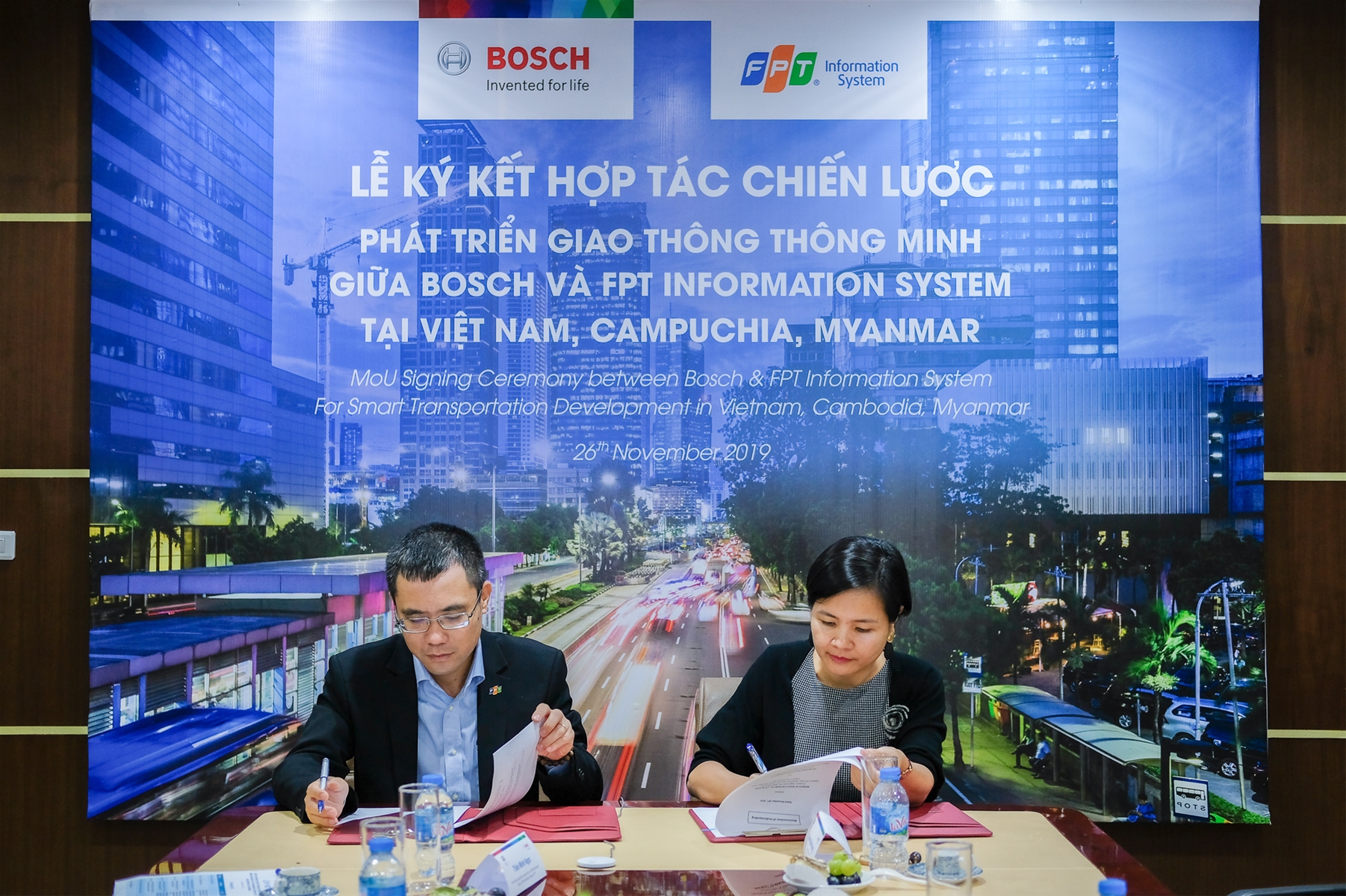 Currently, Ho Chi Minh City, Hanoi and Danang are three pilot cities in the ASEAN Smart Cities Network. In addition to E-government and Connected Building, Intelligent Transportation is an important factor in the smart city model.
In the coming time, the entire routes in big cities are expected to be upgraded with modern management and monitoring solutions. In addition, other provinces are also planned to implement the intelligent transportation system to reduce the manual labor force in management.
It is expected that in the next 5 years, special cities and first class cities in Vietnam will be equipped with intelligent transportation solutions. At the same time, Myanmar and Cambodia are expected to have a strong transformation thanks to foreign investment to develop their urban transportation systems.
Realizing such great potential, Bosch Vietnam and FPT IS will develop smart and modern solutions to solve transportation problems quickly and effectively.
With more than 100 years of experience, Bosch is the world's leading provider of systems, security, safety and communication technology in many fields. In particular, Bosch has implemented a video surveillance system with advanced smart video analysis features and a technology platform that allows the management and operation of up to 200,000 surveillance points at the same time, as well as technologies developed based on Artificial Intelligence & Machine Learning for hundreds of big transportation projects around the globe. In addition, the system of sound notification and fire alarm technology through camera has also been applied at key projects to enhance the ability to monitor and protect traveling people and vehicles.
The representative of Bosch - Ms. Becky Vo - Regional Director (Vietnam, Cambodia, Myanmar), Building Technology Division, Bosch Group - said: "We are very pleased to cooperate with FPT IS to provide intelligent transportation solutions for three potential ASEAN markets: Vietnam, Cambodia and Myanmar. With FPT IS, an experienced local system integrator, we strongly believe that Bosch technology will help improve regional transportation management standards, greatly contributing to the process of building smart cities, bringing a safer life to the people".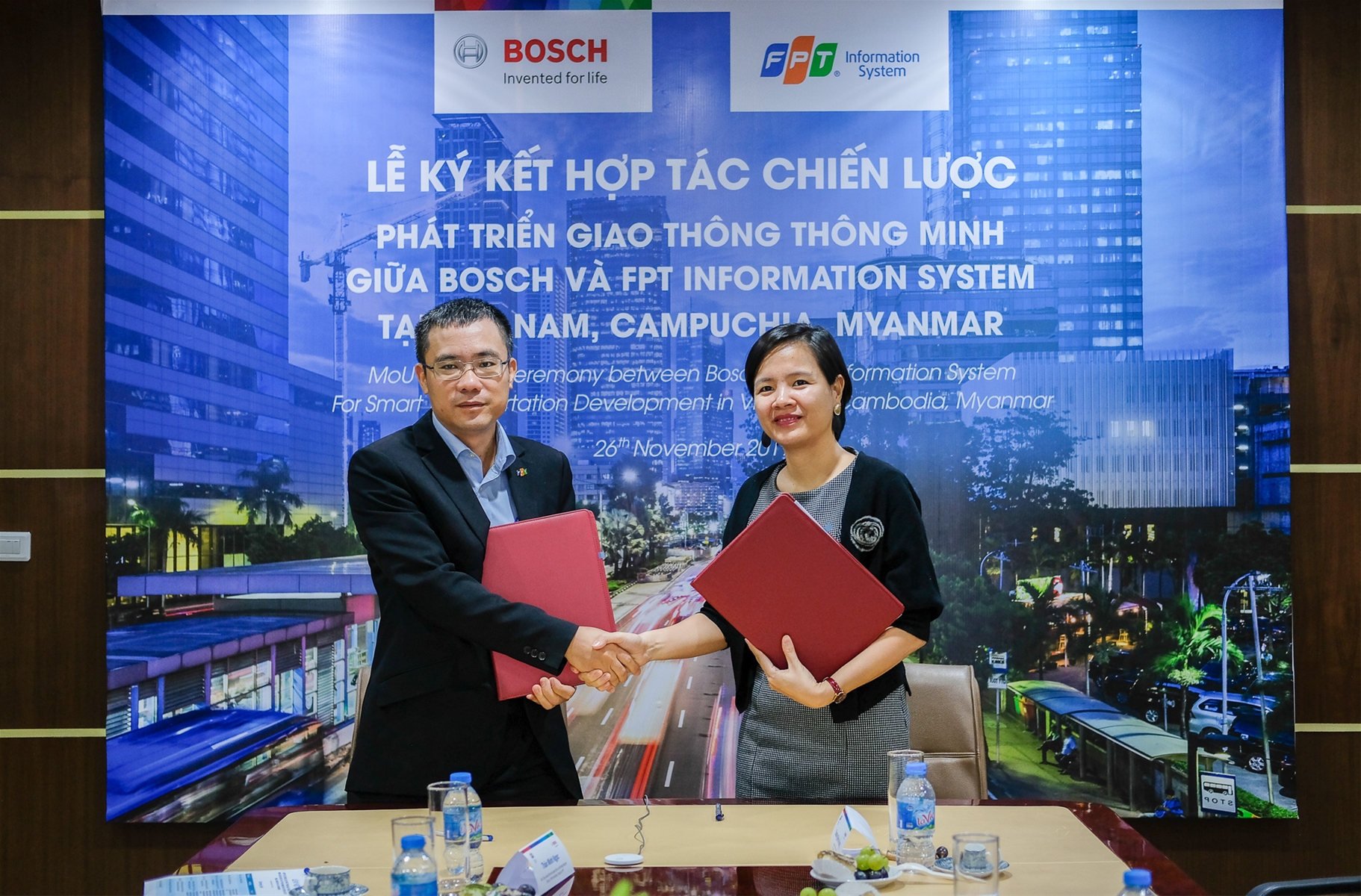 With its strength in the transportation sector, FPT IS has had researches and solutions to improve the public transportation network. Currently, FPT IS provides 4 groups of solution for transportation, including: Laws and Enforcement, Traffic Infrastructure Management, Terminal Management and Transportation Management. This is also an area that is currently being focused on by Bosch Vietnam.
Through this cooperation, the road infrastructure in big cities will be upgraded with smart management and monitoring solutions. In particular, the implementation items include: Video surveillance systems used for traffic management (such as camera-detected offence fine, measuring traffic flow and density to regulate traffic ...) and urban planning (such as improving routes, widening and changing traffic stops ...).
At the signing ceremony, Mr. Duong Dung Trieu - Chairman of FPT IS Members' Council said that this strategic cooperation decision was an opportunity for both parties to learn and exchange experiences towards building long-term cooperation relationship in the field of transportation.
On the other hand, one of FPT IS's missions is to bring a happy and valuable life to the community. "Therefore, the company pays great attention to, constantly researches and develops technological solutions to solve problems related to urbanization towards approaching innovation and building smart cities. FPT IS is honored to be a partner of Bosch, to accompany in building and developing smart cities", emphasized Mr. Trieu.