FPT has achieved ISO 30107-3 certification for anti-counterfeiting facial biometrics
•
28/07/2022
×
With just two months of speedy preparation, the FPT IS team of experts has obtained the significant ISO 30107-3 certificate for anti-counterfeiting facial biometrics. As a result, it has become one of the few companies in Southeast Asia to have this certification.
The world's leading certification organization Tayllorcox has officially recognized FPT IS (a subsidiary of FPT Corporation) to meet ISO 30107-3 standards for Face ID Presentation Attack Detection. This is one of the top prestigious certificates of anti-counterfeiting biometric authentication recently issued in 2017. Currently, there are not too many suppliers in the world that get this recognition. Asia, FPT IS and Advance.AI of Singapore are the two entities that achieved it.
The ISO 30107-3 certification is critical to officially recognizing FPT IS solutions that meet international FaceID technology standards. Moreover, it is a solid premise to bring FPT IS 'eKYC solutions using FaceID technology closer to domestic and foreign customers.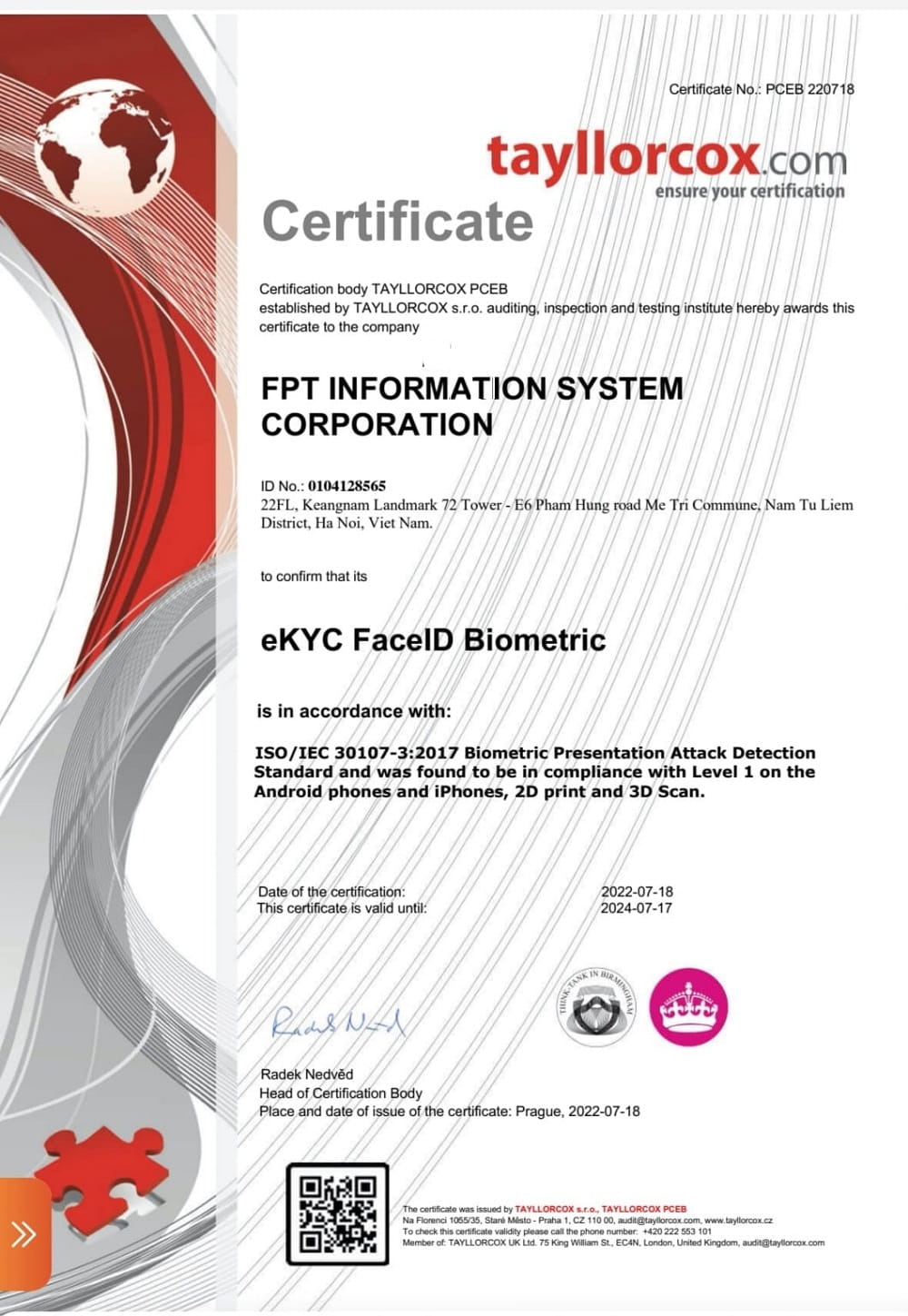 FPT IS has achieved ISO 30107-3 certification for anti-counterfeiting facial biometrics
FPT IS has now integrated eKYC technology using FaceID into multiple solutions such as Digital signature solution - FPT.eSign: Remote issuance of digital certificates to customers; Electronic contract solution - FPT.eContract: FaceID authentication of signers before signing electronic contracts; Digital transformation solution in human resources management - FPT.iHRP: Integration of timekeeping by FaceID; FaceID security control,...
FaceID technology is also integrated into FPT IS's Digital Onboarding solution. This solution is a comprehensive digital platform that meets the entire Onboarding process. It can be used by customers, operational staff, and management teams in the Finance, Banking, and Securities industry. Digital Onboarding solution helps save time and costs by automating all significant operations of the Finance and Banking industry, such as opening payment accounts, credit card registration, loan registration/appraisal, etc., via online transaction channels and at the bank counters.
With years of experience implementing eKYC solutions for more than 30 customers locally and globally, FPT IS team understands that upgrading technical standards must be a priority.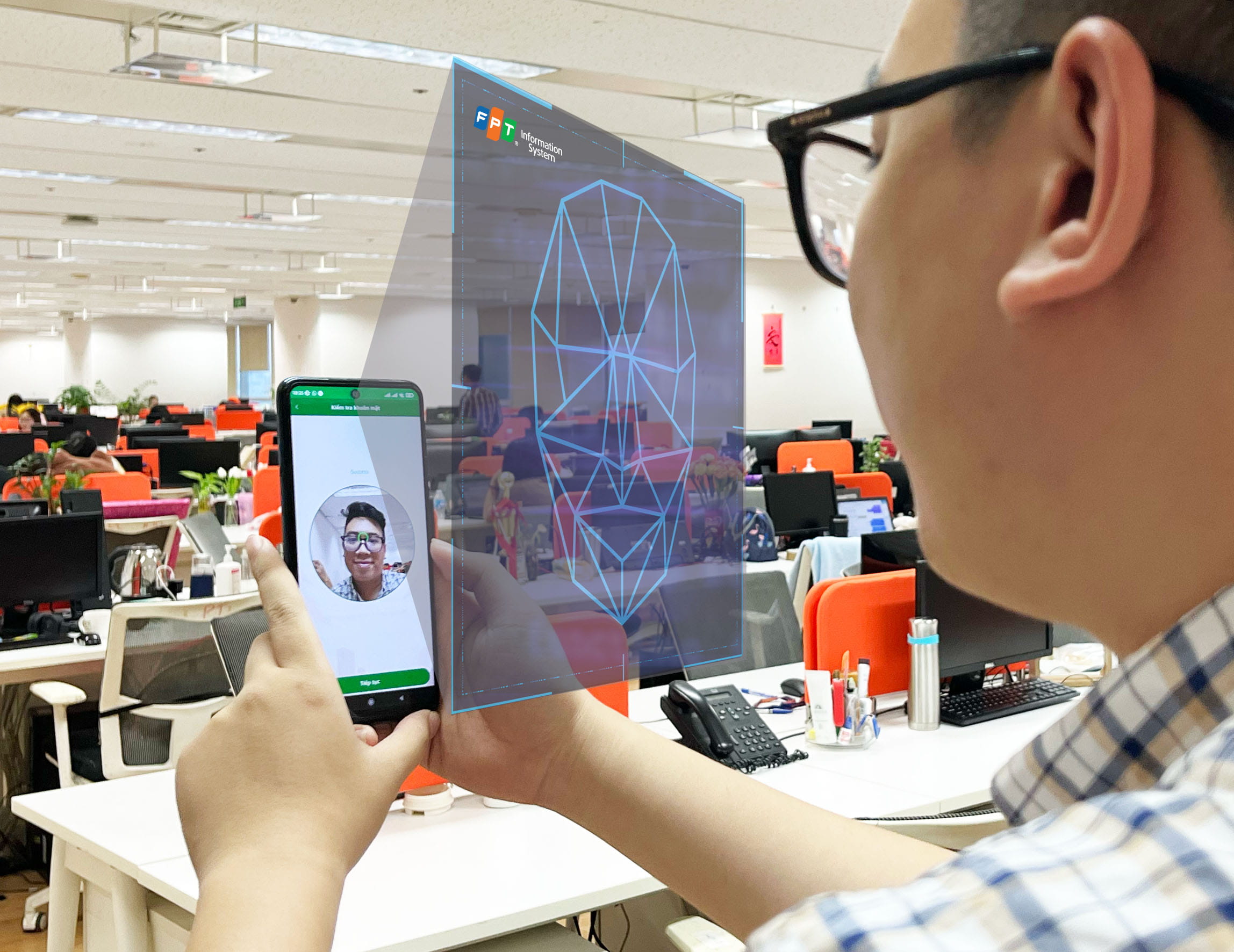 Customers using the FaceID feature on FPT IS eKYC solution
According to Mr. Duong Dung Trieu - Chairman of FPT IS: "ISO 30107-3 certification on counterfeiting facial biometrics has significant implications for us with our eKYC solutions applying FaceID technology. ISO 30107-3 is a recognition and demonstration of the professional competence of FPT IS in implementing eKYC solutions for customers. At the same time, this certification will help us fulfill our desire to become a digital transformation "companion" of enterprises, creating a platform to bring Make-in-Vietnam products to the world".
In Vietnam, FPT IS' eKYC solutions have been supporting and promoting digital transformation for numerous businesses and organizations in Banking. Having just entered the Vietnamese market, after just one month of using the eKYC solution of FPT IS, Kasikornbank (KBank) from Thailand has got more than 100.000 new customers. Lao Viet Joint Venture Bank (LVB) is the first Lao bank to implement eKYC. After three months of transformation, LVB has attracted more than 50.000 customers to use its new service. Ban Viet Securities JSC. also succeeded in having 100.000 new open securities accounts after adopting eKYC measures... With the available platforms and the "resonance" of ISO 30107-3, eKYC solutions, mainly digital banking products, of FPT IS are expected to reach many more customers. We will also strive to be a reliable partner in digitizing the banking industry.