FPT IS operates the largest ERP project in the foreign market
FPT Information System (FPT IS) has officially operated the Design, Supply, Installation and Development Project of the Enterprise Resource Planning/Enterprise Asset Management (ERP/EAM) software
•
15/12/2017
×
.
FPT Information System (FPT IS) has officially operated the Design, Supply, Installation and Development Project of the Enterprise Resource Planning/Enterprise Asset Management (ERP/EAM) software, as well as related support systems for the Gas Transmission Company Limited (GTCL) of Bangladesh, besides giving them training.
At the ceremony, the representative for the GTCL's leaders highly appreciated the implementation capacity, expertise and efforts of FPT IS in general and the onsite project team in particular to make the project successful, which facilitated ERP implementation for all the remaining companies of PetroBangla.
With more than 30onsiters implementing ERP/EAM within 18 months, the project has been completed on time. This is the result from such an action of FPT ISin this South Asian country.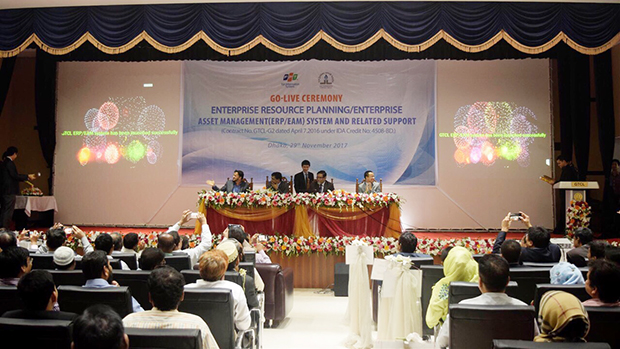 The go-live ceremony of ERP/EAM system for the GTCL
The representative of the Ministry of Power, Energy and Mineral Resources of the Government of Bangladesh said that the resources are being used in an ineffective or even wasteful way. Therefore, it'd be better to provide more similar systems for the energy and resources sectors of Bangladesh.
"Paperwork in the past took us a lot of time and effort and was not managed effectively, so systems like ERP/EAM need to be deployed for the GTCL to solve these problems, then bettering the management of the government," said Nasrul Hamid, State Minister for Power, Energy and Mineral Resources of the Government of Bangladesh.
GTCL is the largest gas transmission company in Bangladesh. In order to win this project, FPT IS has beaten many international competitors, including some large global corporations, leading companies in India, opening up the power - water - gas sectors of the companies in South Asia and other markets.