FPT joins hands to solve the problem of lack of high quality IT human resources
100% of students after graduation will be able to work directly at FPT Software's global software projects, and take the initiative in welcoming unlimited career opportunities in the industry.
•
19/08/2020
×
FPT Software Academy, specializing in training software technology capabilities for students and employees of Information Technology (IT), was established to share knowledge and technology capabilities gathered and accumulated over the past 21 years with the community, then making as significant contribution to improving the quality of IT human resources in Vietnam. FPT Software Academy was formed based on practical experiences of internal training for more than 15,000 employees of FPT Software (a subsidiary of FPT Corporation) in the past 10 years.
In addition to training activities, the academy also aims to become a partner of major testing systems around the world to organize professional exam preparation programs and international certification such as AWS, OCA, Microsoft, PMP so as to help trainees, students or staff of IT companies in Vietnam improve their technology capacity to meet the needs of the global IT human resources market.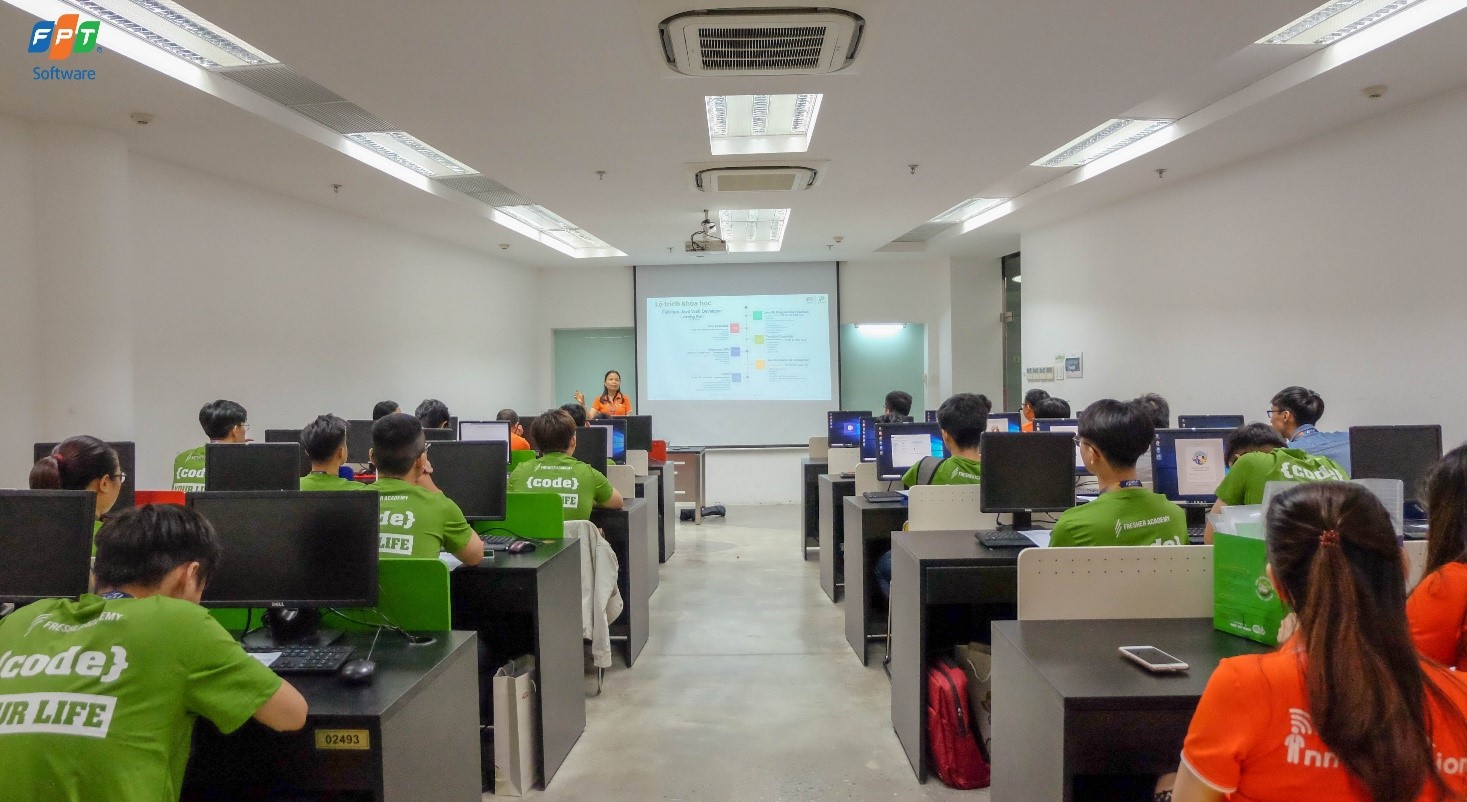 In order to provide and train high-quality IT human resources for major projects around the globe, FPT Software Academy targets students who are about to graduate and just graduated and young employees in the IT industry who need to improve their professional capabilities as well as soft skills to meet the requirements of today's leading IT companies.
The training program at FPT Software Academy is designed to help learners conquer the most specialized and sought-after technological capabilities such as synthesizing Java Web Developer; Java SE Developer, Professional Angular Developer, integrated Net Web Developer, etc. More than 60% of courses are designed for practice, students will participate in mock projects or have opportunities to work on big projects of FPT Software. This helps learners hold the theory and apply them effectively in the job.

The teaching staff of FPT Software Academy includes technology experts with experience in many major projects of the company. They will directly guide and share with students many practical lessons about enhancing technological capacity, soft skills and professional workflow.
According to Mr. Do Ngoc Hoang - Director of the Academy, FPT Software Academy's faculty and experts always make continuous efforts so that students can access the latest technology knowledge, soft skills and professional workflow. "100% of students after graduation will be able to work directly at FPT Software's global software projects, and take the initiative in welcoming unlimited career opportunities in the industry", Mr. Hoang said.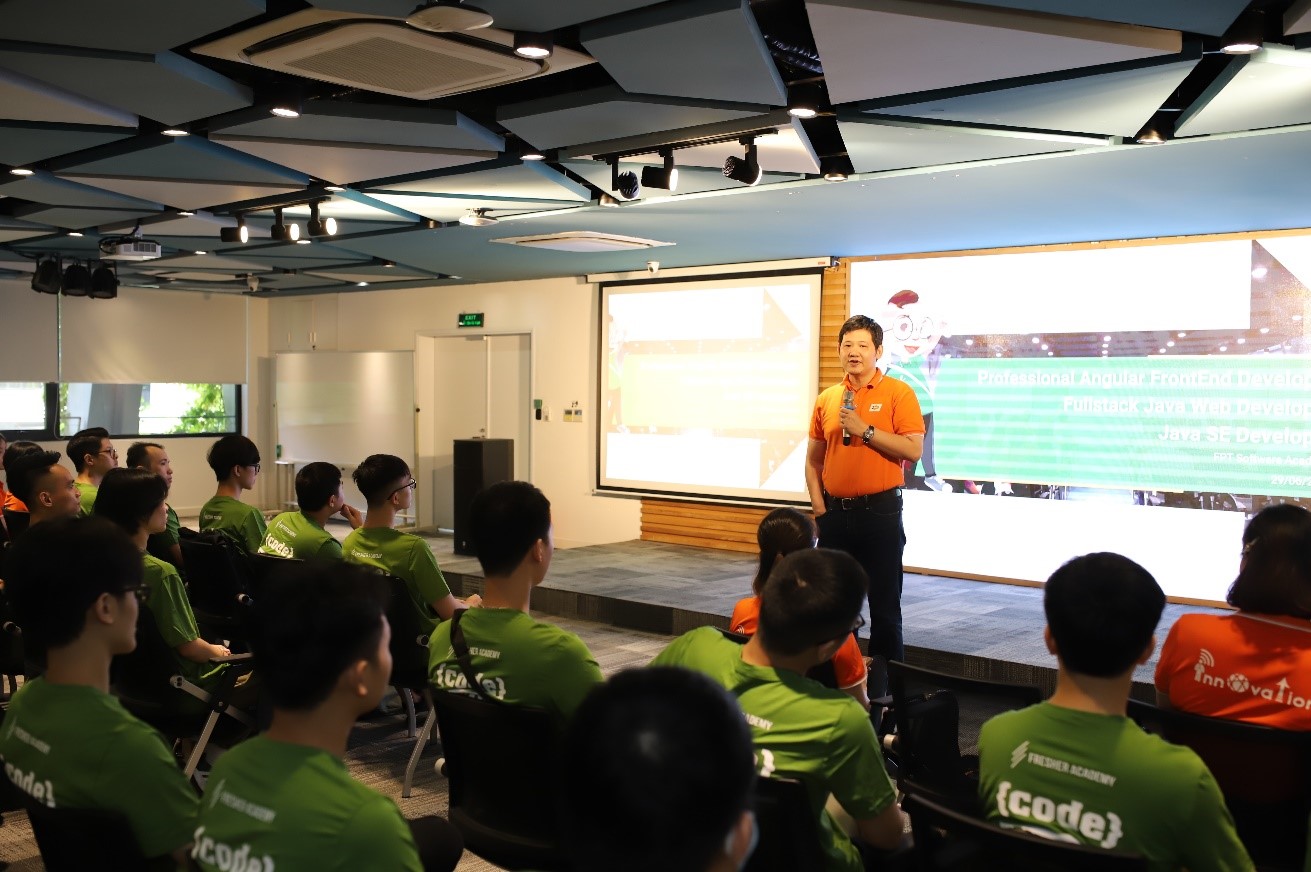 Mr. Do Ngoc Hoang spoke at the opening day of the first course of FPT Software Academy
Via a 3 - 6 month program, students will acquire knowledge and skills to meet the rigorous recruitment requirements at IT companies today. The academy designs curriculum suitable for each specific audience, from a group of students being trained at information technology schools to students studying other majors, or other employees who are working in the other fields and want to change careers, etc. in order to expand opportunities to join the information technology industry for individuals who are truly determined to pursue.
FPT Software commits to arrange and support students to get jobs with the best salary corresponding to their level after they graduate. The Academy also offers many scholarships covering up to 200% of the tuition fee to the candidates with the highest scores and most impressive interview results.
Statistics from TopDev - specializing in software technology show that IT is always one of the most developed occupations in the next 10 years. However, the increasing demand, the IT labor market in Vietnam is always in a shortage of both quantity and quality. Mr. Gaku Echizenya, General Director of Navigos Group, the representative of VietnamWorks website shared: "The recruitment demand for IT staff has increased by 3.8 times, and 4.1 times only in Software Engineering. However, IT human resources still face many barriers in finding jobs to help them achieve their technology career dreams. "

It is expected that in the period 2020 - 2021, FPT Software Academy will train about 2,500 students nationwide. IT students and personnel can register to study in Hanoi, Da Nang, and Ho Chi Minh City.
For more information and advice on training programs, visit the website: https://fsoft-academy.edu.vn/ or contact Hotline 0969125248 (Mr. Bach); Email: [email protected]