FPT launches hospital management solution applying 4.0 technology
Having 20 years of experience in building IT systems for Healthcare sector, FPT officially launched the latest version of FPT.eHospital that meets these requirements on March 19th
•
19/03/2018
×
In order to develop smart hospitals, currently, the Vietnamese healthcare sector is seeking for technology solutions that can operate in many hospitals; allow process customization; be applied flexibly based on financial capability of each hospital; agree with IT rental services model; manage smart hospitals with many features applying 4.0 technology, etc. Having 20 years of experience in building IT systems for Healthcare sector, FPT officially launched the latest version of FPT.eHospital that meets these requirements on March 19th. At this event, FPT and more than 100 leaders of Ministry of Health, Departments of Health and hospitals nationwide discussed the application of 4.0 technology to medical examination and treatment, and hospital management in order to figure out a suitable model and map out a route for smart hospitals in Vietnam.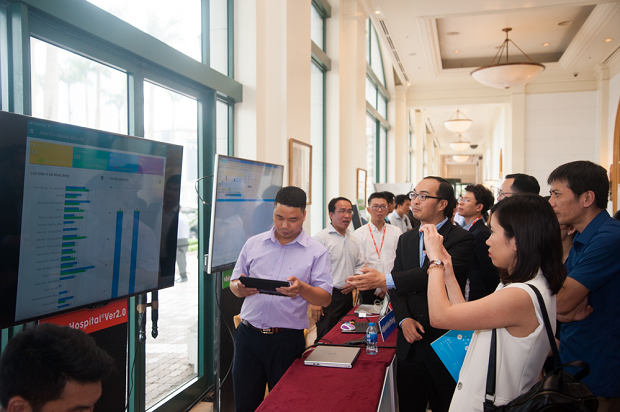 The representatives of Departments of Health and hospitals highly appreciated new features of FPT.eHospital 2.0.
The application of the latest 4.0 technologies such as Artificial Intelligence, Big Data, Cloud, Mobility, Internet of Things, etc is considered a highlight of FPT.eHospital 2.0. These solutions allow hospital leaders to manage the operation with real-time data, digital signature integration, digital medical records, etc. They are expected to contribute to building paperless hospitals, optimizing medical examination and treatment process to make it faster and more accurate; minimizing time/volume of administrative procedures; improving capabilities of hospitals and supporting financial management, profit and loss management, etc.
For doctors, the latest version of FPT.eHospital allows distant medical examination and treatment; reduces risks and errors via drug-drug interaction (DDI) and duplication warnings; provides virtual assistant and chatbot to help with daily work, such as patients seeking, managing medical records, etc.
For patients, the latest version of FPT.eHospital with smart features helps reduce the time of medical examination booking (down from 4 minutes to below 1 minute, especially, if the patients have already had medical examination, it takes only 15 seconds); interact with hospitals through telephone or information portal, such as making appointment, checking medical records, paying hospital fees, utilizing virtual assistant, searching for information via chatbot, etc.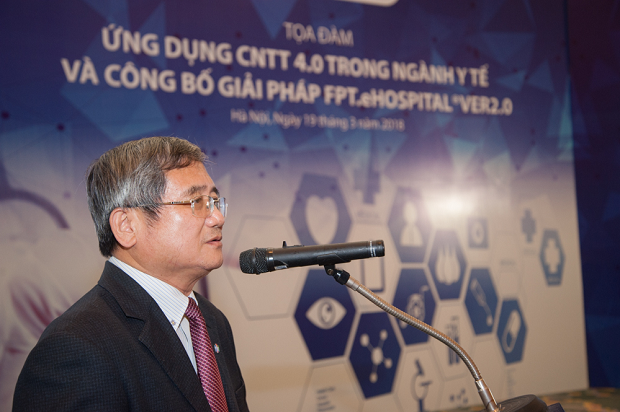 "Over 20 years, FPT has always accompanied with Healthcare sector and provided technology solutions for more than 200 hospitals and medical agencies. As a pioneer in developing and applying the latest technology with a deep understanding of the medical industry, FPT has been striving to provide technology solutions that are applicable for different hospital models, diversify the investment forms, such as renting, in order to improve capabilities of hospitals and help them get ready for the 4th Industrial Revolution," stated FPT CEO Bui Quang Ngoc.
Over the last few years, with the determination of leaders, Healthcare sector has been changing sharply by applying IT to the operation. The productivity of doctors and waiting time have been improved due to the synchronization of information, data and timely operation report. For example, FPT.eHospital allows Bach Mai hospital to receive 9000 patients per day, increasing by 15-20% and 15 times as many as a provincial hospital. It takes a patient 1 minute 40 seconds on average register for medical examination. In addition, at General Hospital of Vinh city, due to FPT.eHospital system, the number of patients has increased from 300-500 people per day to 1,600-1,800 people in 2 hours. Therefore, the hospital also attracts patients from other districts and provinces.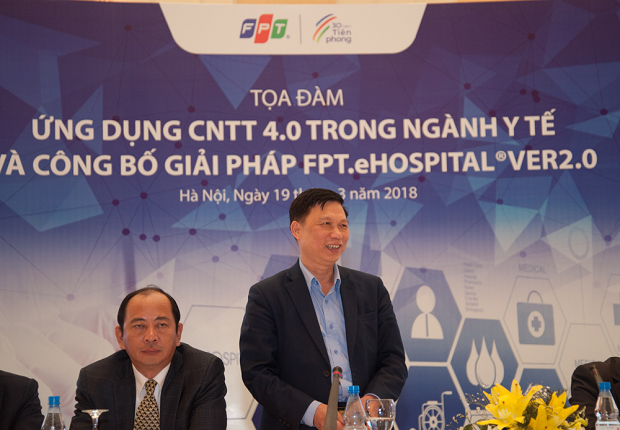 Assoc.Prof.PhD. Tran Quy Tuong hopes that FPT will invest more in Healthcare – a potential sector of Vietnam
To promote the application of IT to medical examination and treatment, medical management, and develop smart hospitals, on December 29th, 2017, the Ministry of Health issued Circular 54/2017/TT-BYT on criteria for assessment of information technology application at health facilities. Accordingly, levels of IT application at health facilities are assessed based on 07 criteria groups. Any hospital that reaches the level of 6-7 (equipped with Hospital Information System (HIS), Laboratory Information System (LIS), Radiology Information System Picture - Archiving and Communication System (RIS-PACS), Electronic Medical Record, software allowing patients to look up, application of artificial intelligence ...) is considered smart hospital.