FPT Software spends VND1 billion on prizes for 2019 Code War
2019 Code War finals - a programming contest for students with a passion for technology and programming nationwide by the VSA Central Committee and FPT Software were held on October 24 in Hanoi, Da Nang and Ho Chi Minh City with a total prize value of up to VND 1 billion.
•
25/10/2019
×
2019 Code War finals - a programming contest for students with a passion for technology and programming nationwide by the VSA Central Committee and FPT Software were held on October 24 in Hanoi, Da Nang and Ho Chi Minh City with a total prize value of up to VND 1 billion. Accordingly, top 30 teams will conquer the challenges in 3 hours. The teams must write a piece of program in their own languages including C ++, Java, C #, Python and JavaScript to solve 10 problems given by the organizers.
Monitor team with three 18-year-old guys from VNU University of Engineering and Technology) became the winner and got the award including a visit to Japan and FPT Japan's office worth up to VND 120 million, VND 20 million in cash and and a USD1,000 course at FPT's Fresher Academy.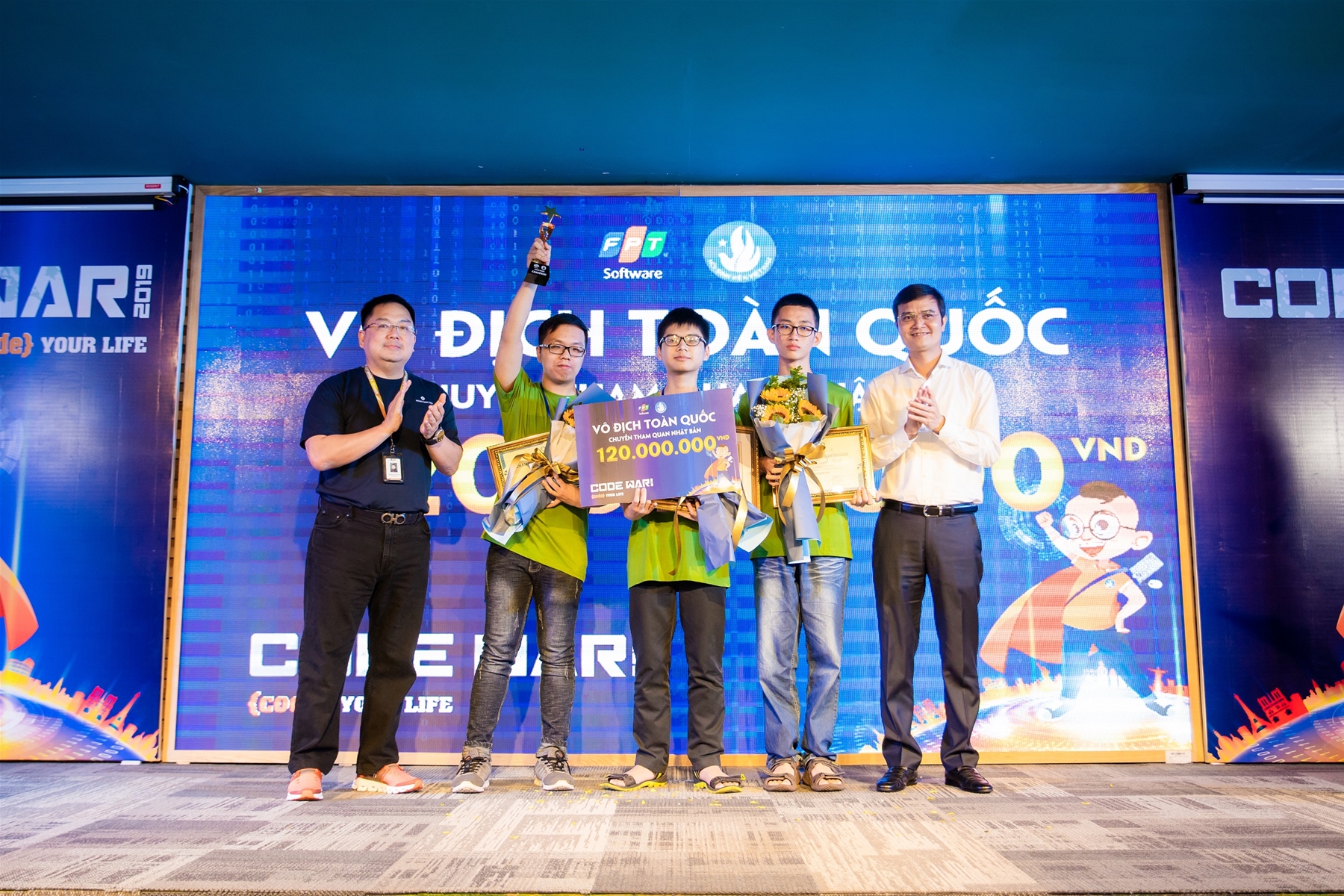 The Monitor team from VNU University of Engineering and Technology became the winner.
Top teams in each region each received the Certificate of Merit from the VSA Central Committee and VND 20,000,000, VND 10,000,000 and VND 5,000,000 in cash respectively. In addition, 90 candidates attending the finals will receive a USD1,000 course at FPT's Fresher Academy.
Codewar 2019 is considered one of the largest professional programming contests for students nationwide. Not only is it a competition, it is also one of the joint activities between the Vietnam Student Association and the leading technology corporations in Vietnam, in order to make and spread the movement of gaining and applying technology knowledge to young people across the country, then creating information technology HR for the Industrial Revolution 4.0. The competition is also expected to promote the movement of "student of 5 merits" being widely deployed nationwide by VSA.
Registration and Preliminary Rounds took place for nearly 2 months, reaching tens of thousands of tech students at universities, colleges and training institutions across the country. The competition attracted 355 teams with 1,065 contestants from more than 116 universities and colleges across three regions.
"Cuder Arena" - a contest on the sidelines of Code War 2019 was also joined by thousands of people.
The precursor to Code War is an internal programming contest for FPT Software employees held in 2018. In less than a year, it quickly developed into one of the prestigious playgrounds for information technology students. The key difference of Code War 2019 from other programming competitions is that teams will compete online on https://codelearn.io/ by FPT Software. Codelearn currently has more than 15,000 users from South Korea, Japan, USA, Russia, Vietnam etc.
"I am very touched and proud to see you play hard till the last minute. In the future, you will be the excellent ones in the technology industry, have the opportunity to work in the world's leading environments. You should believe that today's Codewar battle is the first step towards the software career that will change your life and society," FPT Software Chairman Hoang Nam Tien spoke at the awarding ceremony.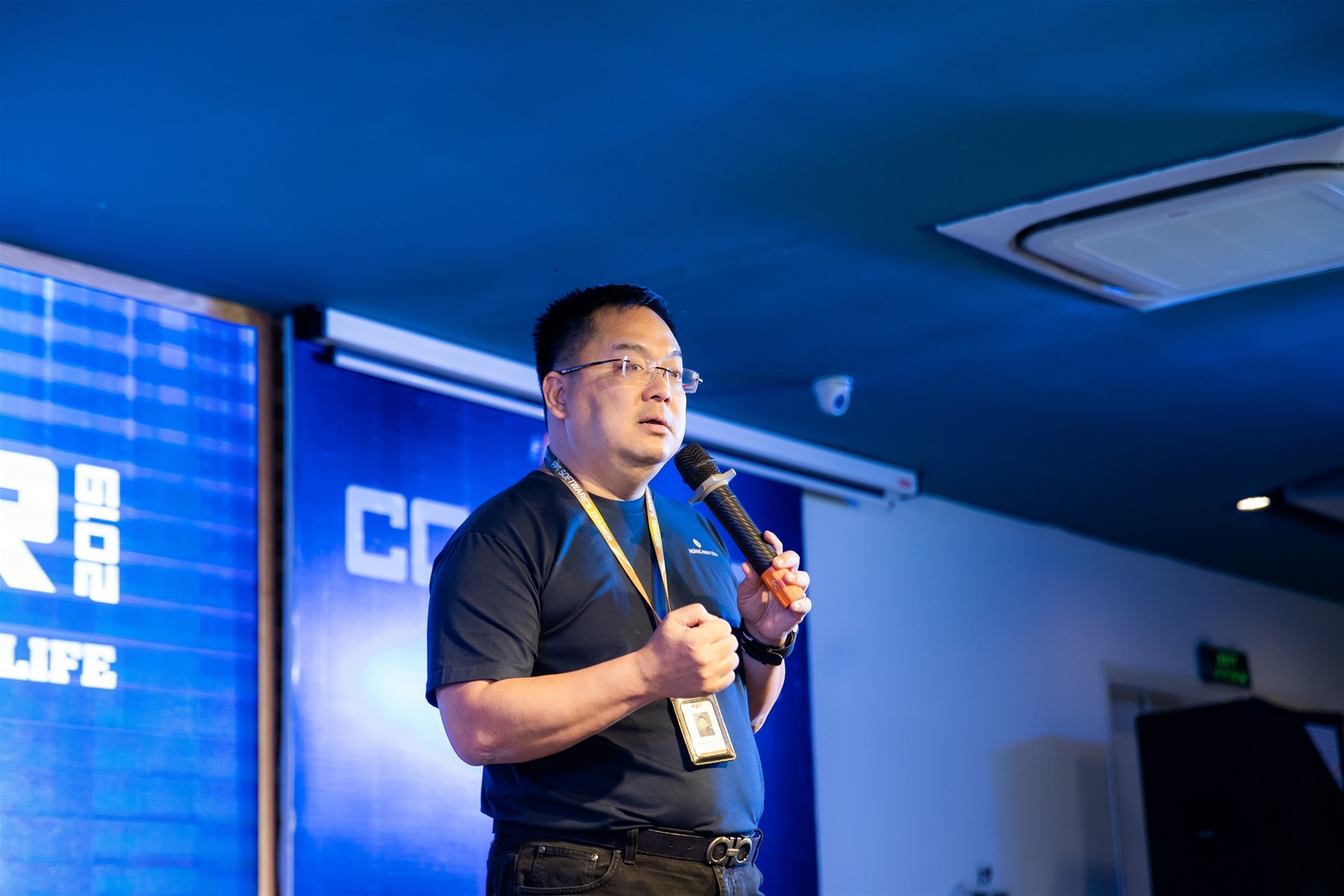 FPT Software Chairman Hoang Nam Tien said that in the future, these students would be the excellent ones in the technology industry.
"This is a practical playground forming a real environment for students to have the opportunity to show their talents. This contest also offers students career opportunities in the programming industry, especially at FPT Software. We hope that Codewar will be held annually, creating many opportunities for young people," President of Vietnam National Student Association, Bui Quang Huy said.