International Google visited and worked with Sen Do
On 12 September, the team of premier google partner management visited and worked with Sen Do (The E-commerce website Sendo.vn)
•
15/09/2017
×
On 12 September, the team of premier google partner management visited and worked with Sen Do (The E-commerce website Sendo.vn) included Mr. Todd Rowe – General Director of Google global marketing solution; Mr. Mathew Heller – Sale manager of Google in South East Asia and India; Mr. Akshay Sonthalia – The head of sale development, Google in South East Asia; Ms. Tammy Pahn and Ms. Tuyet Luong, the supporting team for partners in Vietnam.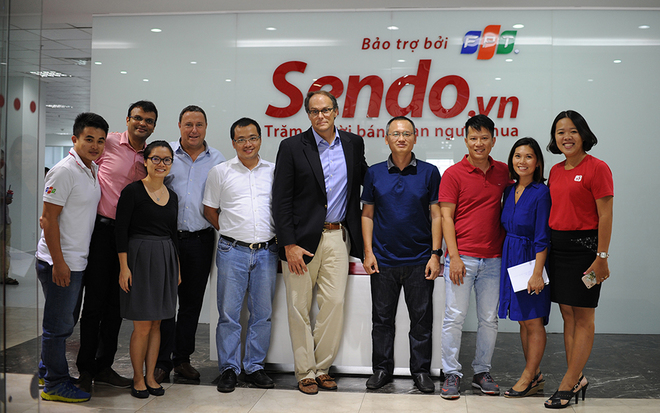 Mr. Todd Rowe - General Director of Google global marketing solution, was impressed with Shopads and the numbers of stores on Sendo.vn
Sen Do is now one of 7 premier customers of Google in Vietnam. In July, Sen Do announced ShopAds – a project Sendo cooperates with Google allows sellers in Sendo.vn to use advertising on the biggest search engine in the world. Mr. Todd Rowe said that he was interested in the solution Sendo was providing and wanted to find out more about Sendo.vn as well as the execution of ShopAds for sellers. He also gave several recommendations for Sen Do to support sellers better.
After the meeting, Mr. Todd Rowe took time to talk with the staff supporting sellers. The senior manager of Google felt excited with the young people here: " I work in Silicon Valley, where the creative ideas come to life every day. It's great you are doing the same thing here. I believe that, in 6 months or several years, when looking back, you will see the grownup and changes of yourselves."
Besides ShopAds, Google members were also impressed with the number of stores, and that the number of sellers and orders from level-two cities took a high proportion.