Prime Minister calls for Japanese firms' investment in high-tech projects
Prime Minister Nguyen Xuan Phuc had a talk with 26 major Japanese enterprises operating in Insurance, Banking, Beverage and Logistic in Tokyo on October 1
•
10/10/2018
×
Prime Minister Nguyen Xuan Phuc had a talk with 26 major Japanese enterprises operating in Insurance, Banking, Beverage and Logistic in Tokyo on October 10. The talk took place as part of his trip to attend the 10th Mekong-Japan Summit Meeting and visit Japan. This is the second time, as the largest Vietnamese IT company in Japan, FPT has organized a meeting between Japan's leading companies and senior Vietnamese leaders.
The PM said that the Vietnamese Government pays close attention to raising the capacity of accessing and grasping development opportunities from the Fourth Industry Revolution. Vietnam is shifting its growth drivers towards sectors with high-added values, using state-of-the-art technologies and high-quality laborers. Therefore, the country hopes for Japanese investments in all sectors, especially high-tech projects.
At the event, Acting Minister of Information and Communications Nguyen Manh Hung also asked Japanese businesses to strengthen cooperation with Vietnamese IT enterprises especially in the new technologies such as artificial intelligence, big data, IoT, robotics and e-government development in Vietnam.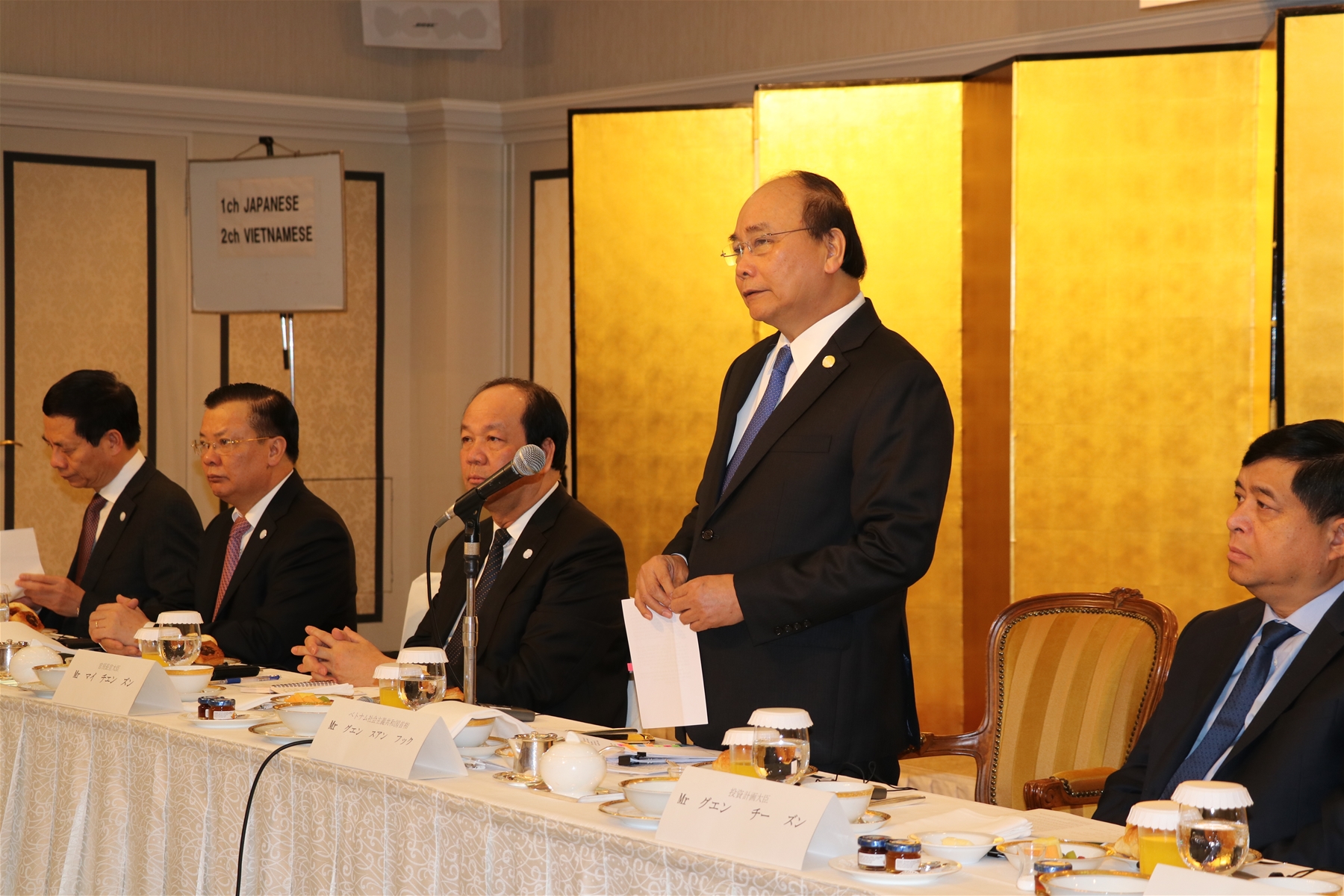 Prime Minister Nguyen Xuan Phuc spoke at the conference.
For their part, Japanese enterprises said the business climate in Vietnam has significantly improved and expressed interest in the government's infrastructure development plans and investment priorities in the high-tech sector.
According to Hiroyuki Tsurugi, Managing Executive Officer at Mitsui, the company plans to digitize business operations, especially AI application, and hopes to cooperate with Vietnamese businesses to implement this plan.
Nobuhiko Sasaki, Vice President at Fujitsu Limited, said that Fujitsu has applied AI, IoT, and cloud computing to solve problems in high-tech agriculture. Fujitsu has also shaken hands with FPT to implement a project on high-tech agriculture and wishes to receive the support of the Government of Vietnam to further hi-tech agriculture development in Vietnam.
Being established the first office in Japan in 2005, FPT has grown into the Vietnamese largest company in this world third largest economy with remarkable achievements: 7 representative offices in Tokyo, Yokohama, Shizuoka, Nagoya, Osaka, Fukuoka and Okinawa with 1,200 employees. In 2016, FPT Japan officially hit the milestone of USD 100 million (equivalent to over VND 2,200 billion). In 2018, the revenue from Japanese market is expected to reach USD 200 million, an increase of around 25% yoy. In the first nine months, it reached about USD150 million, increasing by about 30% yoy.
In the future, FPT Japan aims to become the most outstanding Southeast Asia-based Japanese company which is named as the largest SI (Systems Integrator) Tier 2 as well as top 20 largest IT companies in Japan by 2020.