FPT Software Enters Top 100 ICT Companies in France
•
30/10/2023
×
FPT Software has recently been listed in the Top 100 ICT Companies in France. This milestone highlights the global IT company's position in the market, as well as its commitment to delivering advanced innovation and customer success.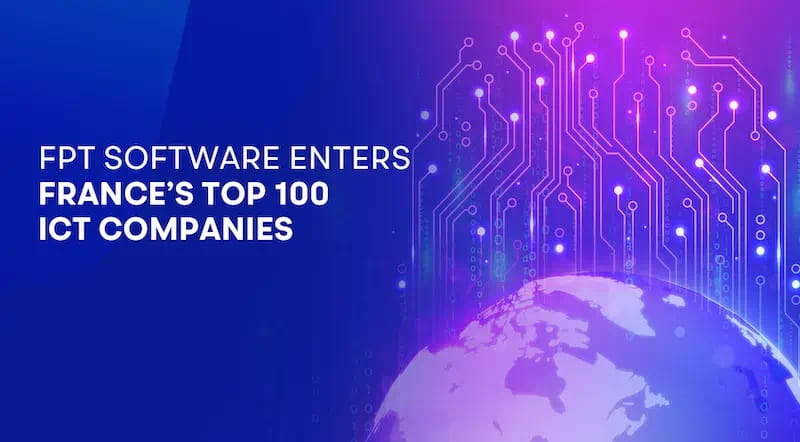 The "Grand Angle ESN & ICT" is an annual assessment by Numeum and KPMG France on Digital Services Companies (ESN) and Technology Consulting Companies (ICT) in France. Notably, this year's ranking highlights FPT Software Europe among the top 100 ICT companies with the highest turnover, along with industry giants like Capgemini, Accenture, and Sopra Steria.
Recently celebrating its 15th anniversary in France, FPT Software has significantly leveraged its expertise to become a trusted IT partner in the market. The company's technology competencies are firmly recognised through various complex ventures and strategic partnerships with French industry giants like Airbus, Geopost, and Quadient.
In the next five years, FPT Software aims to become one of France's top 50 best IT companies. It also seeks to establish an FPT campus where hundreds of FPT employees can have the best working environment to create positive impacts on the local tech community.
Innovation remains a cornerstone for the global IT services provider, alongside investment in technology development and talent training to deliver cutting-edge solutions and more success for its partners and customers.
Entering France in 2008, FPT Software Europe has grown from a small team of 5 to 400 experts working at Paris, Toulouse, and Sophia Antipolis, serving various clients across industries with focuses on Big Data, AUTOSAR, SAP and Cloud services. The subsidiary plans to expand its footprint across France with offices planned in Nice, Bordeaux, Lyon, Strasbourg and more.