Vietnam's FPT buys majority stake in U.S. consulting firm Intellinet
FPT makes strategic investment in Intellinet to expand its digital transformation leadership, aiming to provide more strategic and comprehensive services to global leading companies.

•
12/07/2018
×
FPT makes strategic investment in Intellinet to expand its digital transformation leadership, aiming to provide more strategic and comprehensive services to global leading companies.
(ATLANTA, GA) – July 12, 2018 – FPT, the global leading IT Service Provider headquartered in Vietnam and Intellinet, an US-based purpose-driven management consulting and technology services firm, today have reached a definitive agreement for FPT to become the major shareholder of Intellinet, expanding the company's footprint in the United States.
Under this agreement, Intellinet will continue to operate as an independent organization; however, the two sides will be able to leverage each other's strengths. With this new partnership, Intellinet enhances FPT's offerings with strategy and management consulting capability and becomes part of a company with deep offshore capacity, focusing on digital transformation.
FPT, by partnering with the world's technology disruptors such as Amazon Web Services, Microsoft, Siemens, GE etc., has continuously enhanced its technology as well as domain expertise to help provide more value-added services to clients worldwide. The company has been providing technology services for nearly 200 customers in the U.S. from various business domains, including Aerospace & Aviation, Healthcare, Banking & Finance, Telecommunications, Retail, and Automotive. Meanwhile, Intellinet's strategy and technology consulting capability in transforming client's business, providing customers seamless digital experiences has been proven throughout 20 years of operation with thousands projects successfully delivered, helping clients to maximize their investment and increase business efficiency.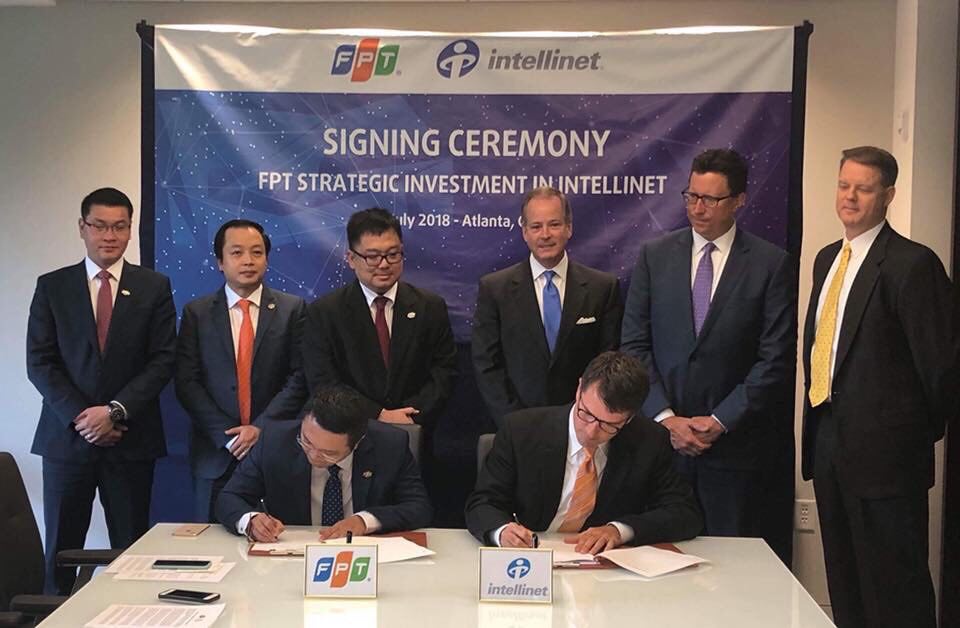 This partnership enables both companies to deliver end-to-end strategic IT services on a global scale, helping clients to accelerate their Digital Transformation journey. With the team of 150 Intellinet's consultants joining FPT's taskforce, the two companies are able to provide full ranges of technology solution from consultancy, requirement definition, system design, development, implementation and maintenance for worldwide clients.
"Becoming technology partner of global enterprises in the Fourth Industrial Revolution, we realize that there exists a huge demand in Digital Transformation consultancy and implementation services. By making strategic investment in Intellinet, FPT is now more than ready to provide comprehensive Digital Transformation solution for top companies, elevating Vietnam's position on the global technology map.", said Mr. Truong Gia Binh, Chairman of FPT Corporation.
"After 25 years of leading Intellinet as Founder & Chairman, today I am pleased to announce that Intellinet is becoming the US gateway to a global organization through a strategic equity investment by FPT Software" said Frank Bell, Intellinet's Founder and Chairman of the board. "I couldn't be more proud of Intellinet and our leadership team. I am excited to be a part of this transaction and the opportunity it creates to grow Intellinet into the global technology leader we have always believed it had the potential to become."
"We are thrilled to join the FPT family" said Mark Seeley, Intellinet's Chief Executive Officer. "By combining our business acumen, industry expertise, and technology execution, our teams can deliver more innovation and transformational solutions that will truly make a measurable impact on our clients' businesses."
About FPT
FPT is the biggest IT service company in Vietnam and region with nearly US$ 2 billion in revenue and more than 32.000 employees, including nearly 14.000 technology specialists.
FPT currently provides IT service in 33 countries all over the world, with key markets such as Japan, the U.S and Europe. As a pioneer in 4.0 revolution in Vietnam, FPT is strategically cooperating with corporations which own 4.0 technology platforms in the world such as GE, Siemens, AWS,…in digital conversion projects for global customers. For more information, please visit www.fpt.com.vn/.
About Intellinet
Intellinet is a purpose-driven management consulting & technology services firm. Intellinet delivers value-creating solutions and material impact for clients through industry-aligned strategy, digital, and technology services. The company partners with future-minded corporate leaders who value execution excellence in both business and digital transformation. With an experience-driven mindset, Intellinet leads boldly and innovate alongside our clients, enabling them to realize the full business value of today's technologies. Intellinet has received over 70 worldwide, national, and regional awards for delivery excellence, customer satisfaction, and employment experience since its formation in 1993. Intellinet has offices in Atlanta, Charlotte, Boston, and Hartford, serving many of the United States' Fortune 500 companies. For more information, please visit www.intellinet.com/.