Vietnamese enterprises unite to recalibrate sales for the next normal
On October 29th, 2020 - The second "From surviving to thriving" forum with the theme of "recalibrating sales for the next normal" by FPT took place online and offline in Hanoi and HCMC. The event gathers hundreds of senior leaders from Top 500 private enterprises in Vietnam.
•
30/10/2020
×
On October 29th, 2020 - The second "From surviving to thriving" forum with the theme of "recalibrating sales for the next normal" by FPT took place online and offline in Hanoi and HCMC. The event gathers hundreds of senior leaders from Top 500 private enterprises in Vietnam. Here, leading domestic and foreign speakers and consultants updated the businesses on the latest market trends, the core changes in consumer behavior, as well as listed urgent tasks which would help businesses recalibrate sales for the next normal. The forum also affirmed FPT's position and capacity in connecting and accompanying Vietnamese businesses, promoting the business community to unite and make contribution to the recovery and development of the national economy.
The Covid-19 Black Swan has had a serious impact on the global economy. In the World Economic Outlook, the IMF predicted a decline of global GDP by almost 5% in 2020, while the US and EU could even see a drop of 8-10%. In this context, recalibrating sales is one of the top priorities to offset revenue losses, restore working capital, and capture growth momentum.
In order to support the business community, FPT organized an event with the theme of "Recalibrating sales for the next normal" in the framework of the "From surviving to thriving" forum. The event was attended by the representative from Boston Consulting Group (BCG) Vietnam - a top consulting firm, and some leaders from large corporations in many fields namely Kangaroo Group, CEN Group, Tan Hiep Phat Group and FE Credit.
At the event, the leaders from Vietnam's largest private enterprises together analyzed new market trends, new distribution channels, sales tools, and shared practical lessons, then gained experiences to reach customers and develop the market in the current context.
"Covid-19 and the 4th Industrial Revolution have placed double pressure on the economy as well as enterprises. No one stands outside of the reach of the oncoming challenges. Therefore, Vietnamese businesses need to unite. It is necessary to move from partnership to business alliance, to sympathize in difficult time have some sympathy for each other, to share creative inspiration, experiences, and help each other out," stated FPT Chairman Truong Gia Binh.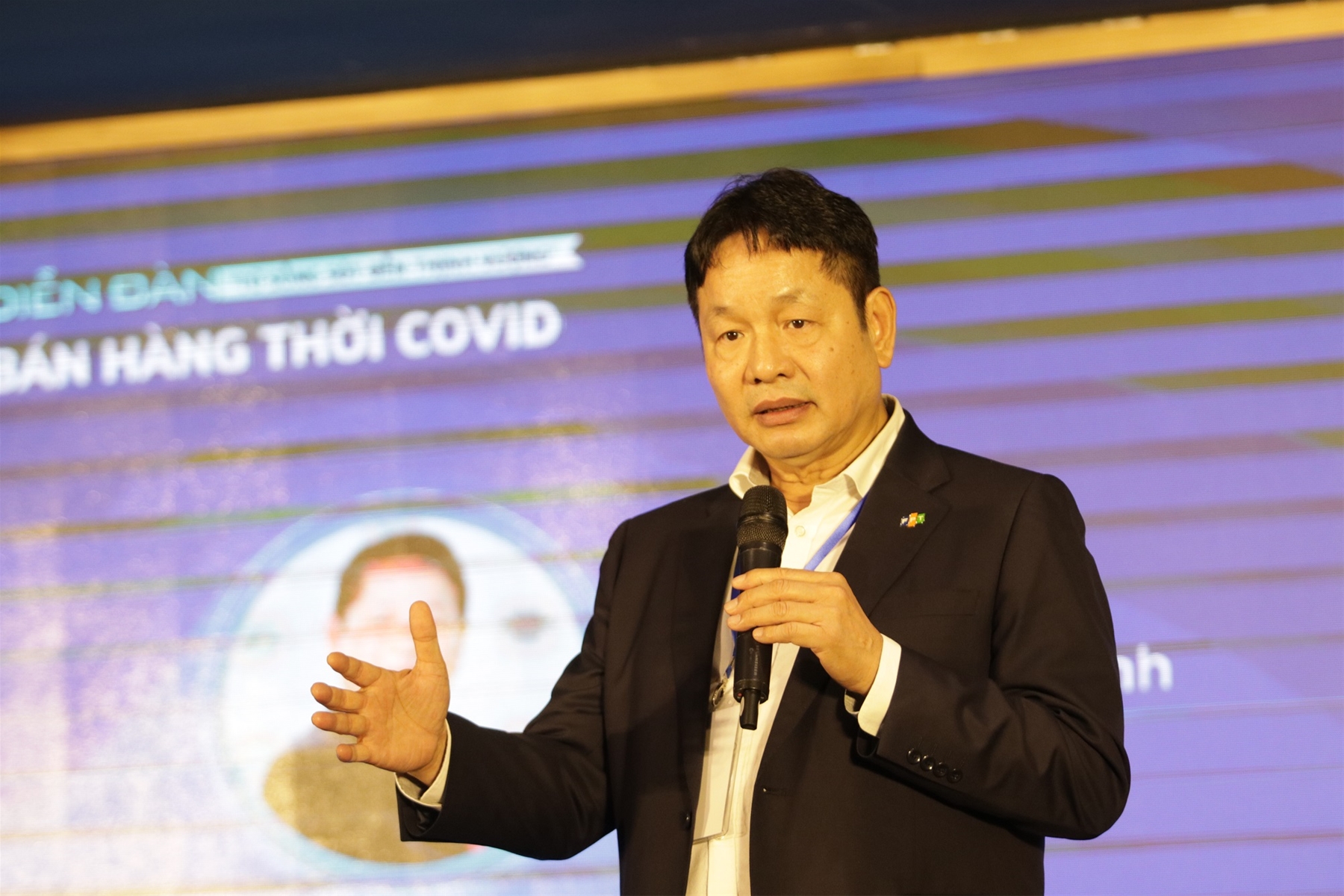 FPT Chairman Truong Gia Binh
At the same time, the leaders from technology corporations also discussed five groups of problems and actions which would help improve sales skills and adapt to changes in customer behavior.
According to him, a business manager had to become a leader during wartime to catch up with opportunities, react quickly to changes, and have a new business vision. Businesses also need to change the way they sell, be ready for e-commerce, and offer customers superior digital experiences. Pricing should be flexible and new values should be highlighted. They need to focus on human resource, recruitment, retraining, then turn the entire team into a sales force. It is also the most important moment to re-equip "weapons" - digital tools, drive digital transformation with a focus on growth, customer satisfaction, process automation, improved productivity, better operation and administration.
In agreement with this, Mr. Arnaud Ginolin, CEO of BCG Vietnam believed that the impact of Covid-19 would last at least 12-16 months more. Only 14% of companies, the most agile and flexible, can become the 'winners'. In order to help businesses, seize opportunities for stronger growth, the representative from BCG offers some key recommendations, which focus on the strategy of capital allocation as well as digital transformation promotion. These are the two most urgent and appropriate actions that Vietnamese businesses can immediately take to change costs and revenue.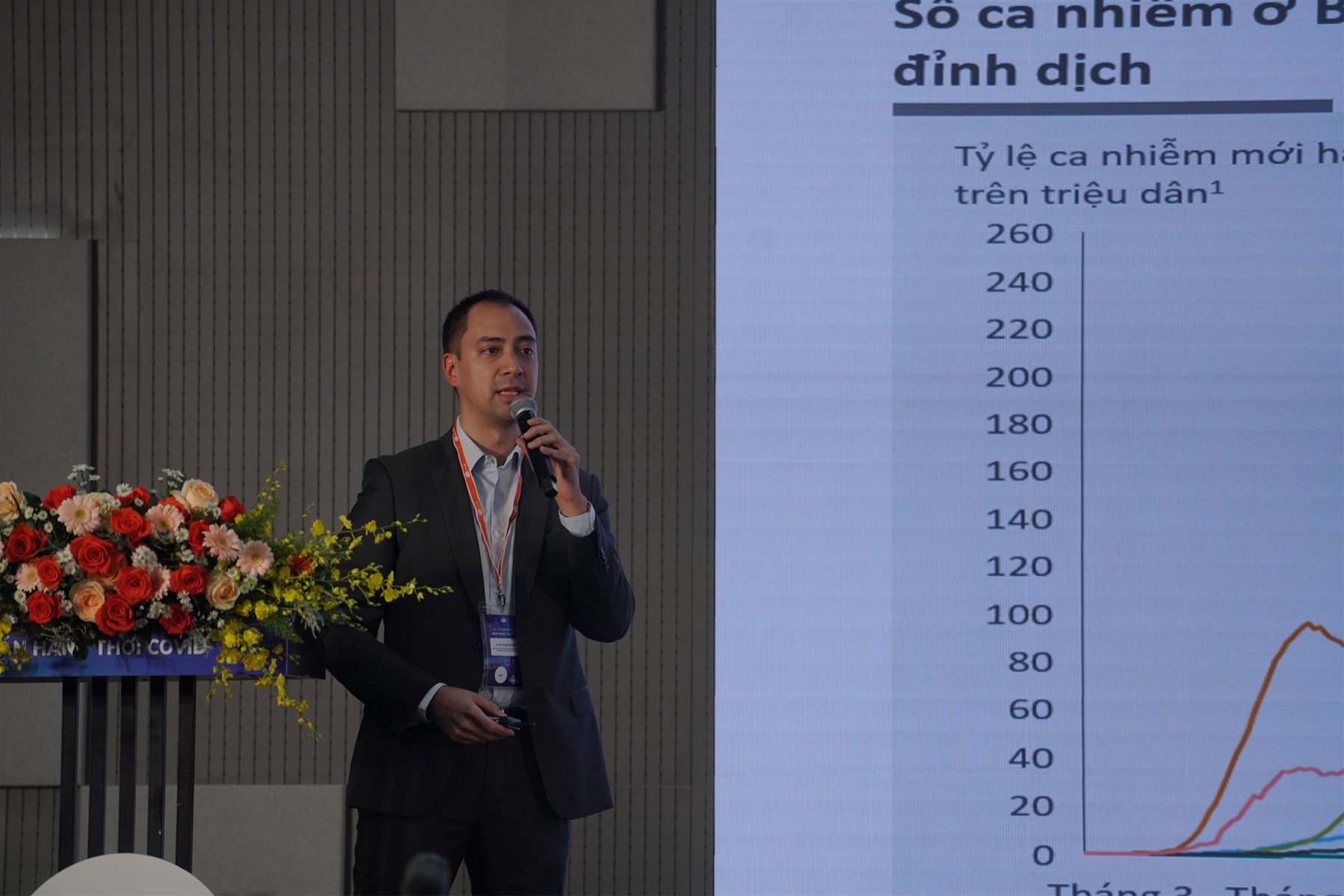 Mr. Arnaud Ginolin, CEO of BCG Vietnam
Mr. Arnaud, together with Mr. Hoang Viet Anh, FPT's Deputy General Director in charge of digital transformation, also discussed some case studies about how the businesses have taken advantage of the power of digital technology to get opportunities faster recovery and growth during and after the crisis. For example, the Omni-channel experience such as online seminars, livestream of test drives by celebrities etc. helped Tesla set a sales record in the first quarter in Chinese market. Changing the traditional approach helped expand the market, get new customers. Thanks to applying eKYC (Electronics Know Your Customer) solution, Viet Capital Bank tripled the new account registration rate in August 2020.
Also within the framework of the forum, the leaders from enterprises leading the race to catch the wave of post-Covid-19 sustainable growth and recovery namely Tan Hiep Phat, Kangaroo, CEN Group, FE Credit etc. shared their lessons about the challenges and actions that helped them reap the fruits of success even during Covid-19 epidemic.
According to Mr. Nguyen Trung Vu, Chairman of CEN Group, Covid-19 has urged businesses to discover new shopping trends, find niche markets and immediately implement market access. While the real estate market is stagnant, paralyzed because of Corona, CEN Group still maintains a team of nearly 3,000 employees, closing thousands of transactions per month. This year's revenue is expected to exceed last year's one.
Kangaroo also had a similar response, when starting the sales of its appliances in drugstores, changing the price policy to aim at the popular customer segment. According to Mr. Nguyen Thanh Phuong, Chairman of Kangaroo Group, managing finance, cutting redundant costs and eliminating intermediaries also helped them to spend more on promoting sales. As a result, Kangaroo saw the opportunity in the crisis and grew by 210% compared to 2019.
Tan Hiep Phat Group called for spending cuts and cost-effective proposals. Meanwhile, SmartPay (FE Credit) focused on mobile app development to increase customer experience. They have more than 200,000 application downloads per month. Transaction turnover via this channel has doubled every month since June.
Through the forum "From surviving to thriving", FPT wishes to connect Vietnamese businesses, raise the most important issues, share experiences and have discussion to reach the most suitable solutions for businesses.