FPT Smart Cloud and CyRadar to launch a new firewall solution for businesses
•
24/10/2022
×
On 25 Oct 2022, FPT Smart Cloud – a subsidiary of FPT Corporation - officially launched FPT Cloud WAF - the Web Application Firewall solution for businesses, in collaboration with CyRadar. FPT Cloud WAF offers website protection against the top 10 threats according to OWASP standards, helping businesses thoroughly monitor, detect and respond promptly to network security threats.
FPT Cloud WAF is part of an ecosystem of 50 superior cyber security services on the FPT Cloud platform. The service is provided in the form of cloud-based dedicated models, in which the components of the application firewall are located entirely in the user's tenant system, preventing sharing and ensuring requests' privacy. FPT Cloud WAF will help enterprises proactively protect themselves against threats by enforcing security policies based on cyber attack signs, standard protocols, and unusual web application traffic.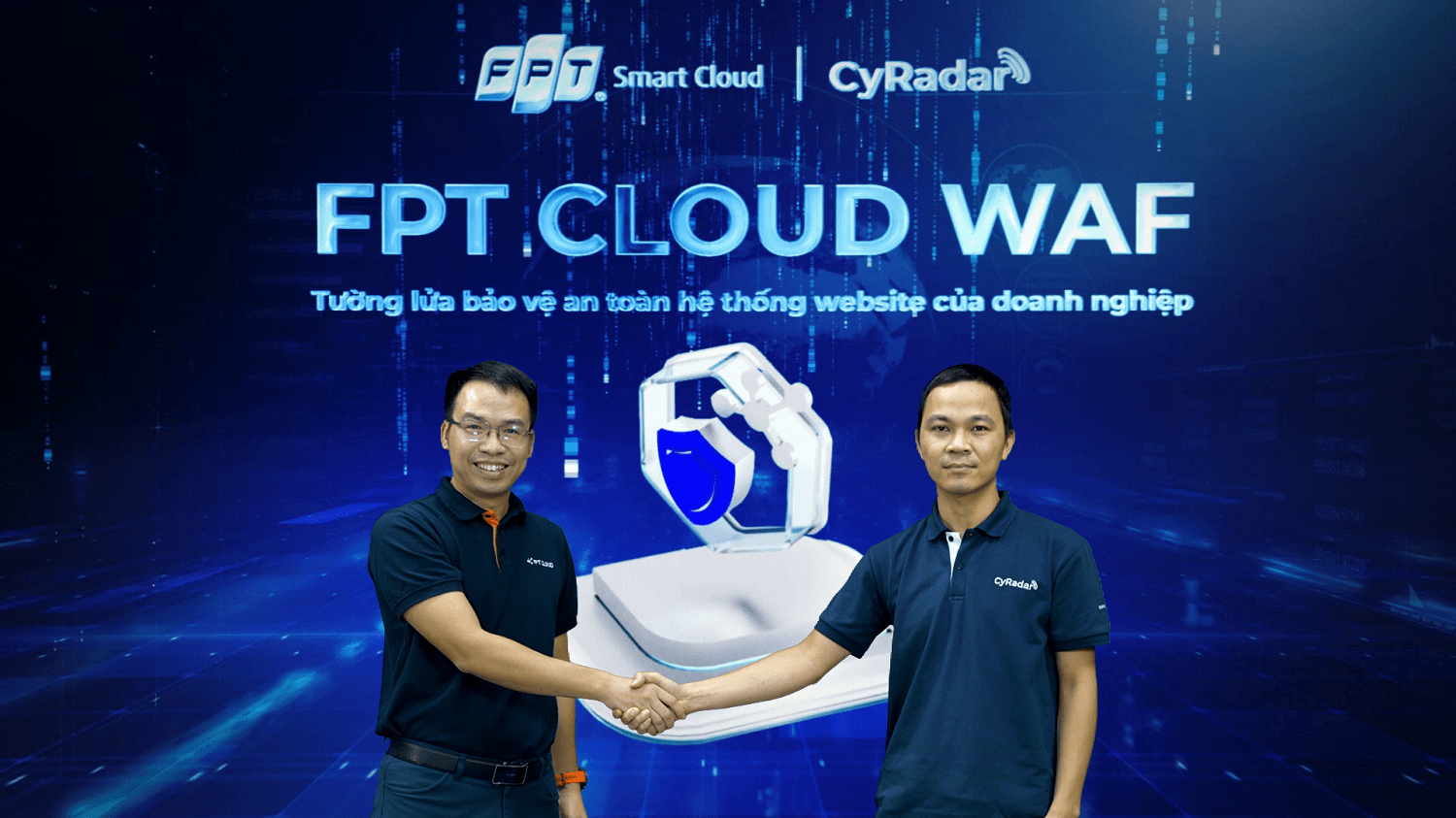 The WAF solution takes advantage of FPT Cloud's leading cloud computing technology and CyRadar's professional cyber security experience. Therefore, it is expected to provide high-class practice of websites and applications protection against new zero-day vulnerabilities. Furthermore, it creates a virtual shield that keeps websites safe from attacks while real vulnerabilities have been unpatched.
The service is fully integrated into the FPT Cloud's management system. The initialization will be carried out automatically so that users can easily set up accounts to use firewalls immediately, configure them or create new rulesets. In addition, FPT Cloud WAF will continuously develop new features and diversify the models offered to customers in the coming time.
Mr. Phan Hong Tam - Director of Cloud Technology Division, FPT Smart Cloud - said: "Our strategy is to accompany reputable partners such as CyRadar to enhance our capabilities and diversify our services, meeting all market needs in the new circumstance. I believe this cooperation will be an opportunity to effectively exploit both sides' potentials and strengths, thereby creating disruptive developments in cyber security."
"Vietnamese businesses are accelerating the Digital Transformation process with continuous innovation, with which the core mission is to ensure security on all Cloud platforms, applications, and devices. FPT Cloud WAF allows customers to control access and protect websites against deliberate attacks. We are pleased to partner with FPT Cloud to provide a secure digital transformation environment for customers using the advanced 'Make in Vietnam' Web application firewall service." Mr. Nguyen Minh Duc – Founder and CEO of CyRadar - commented.
Launching this new service, FPT Smart Cloud is gradually creating the end-to-end service ecosystem of information security for businesses, ranging from infrastructure and network protection to applying, alerting, and monitoring. Moreover, it has been driving much further in realizing the mission of turning every Vietnamese business into a technology company with various innovative products. On the occasion of the product launch, FPT Smart Cloud offers a 3-month trial of FPT Cloud WAF for all new registered customers.
Contact us for more details: Hotline 1900 638 399; email: [email protected].