FPT Acquires Product Engineering Services Firm Cardinal Peak
•
06/11/2023
×
HANOI, Vietnam – November 6, 2023 – Vietnam's leading corporation FPT announces its acquisition of the US-based company Cardinal Peak, a strategic move to strengthen its product engineering delivery capabilities in North America.
As part of FPT's global growth strategy, this investment leverages Cardinal Peak's expertise and 20-year experience of delivering end-to-end product engineering services, including hardware, embedded software, IoT, cloud, and mobile product development, to over 300 companies in automotive, healthcare, robotics, consumer electronics, streaming media, security and safety, and aerospace industries.
Through this investment, FPT also gains 100 experts and one office in the United States. With these additional resources, the global IT firm sets its sights on doubling its product engineering services revenue in the Americas in the next two years. This goal is partially driven by its investment commitment of USD 100 million by the end of 2023 in this strategic market.
Meanwhile, Cardinal Peak will remain an independent entity but now has access to enhanced service offerings, greater scale, and global delivery options through FPT's extensive network.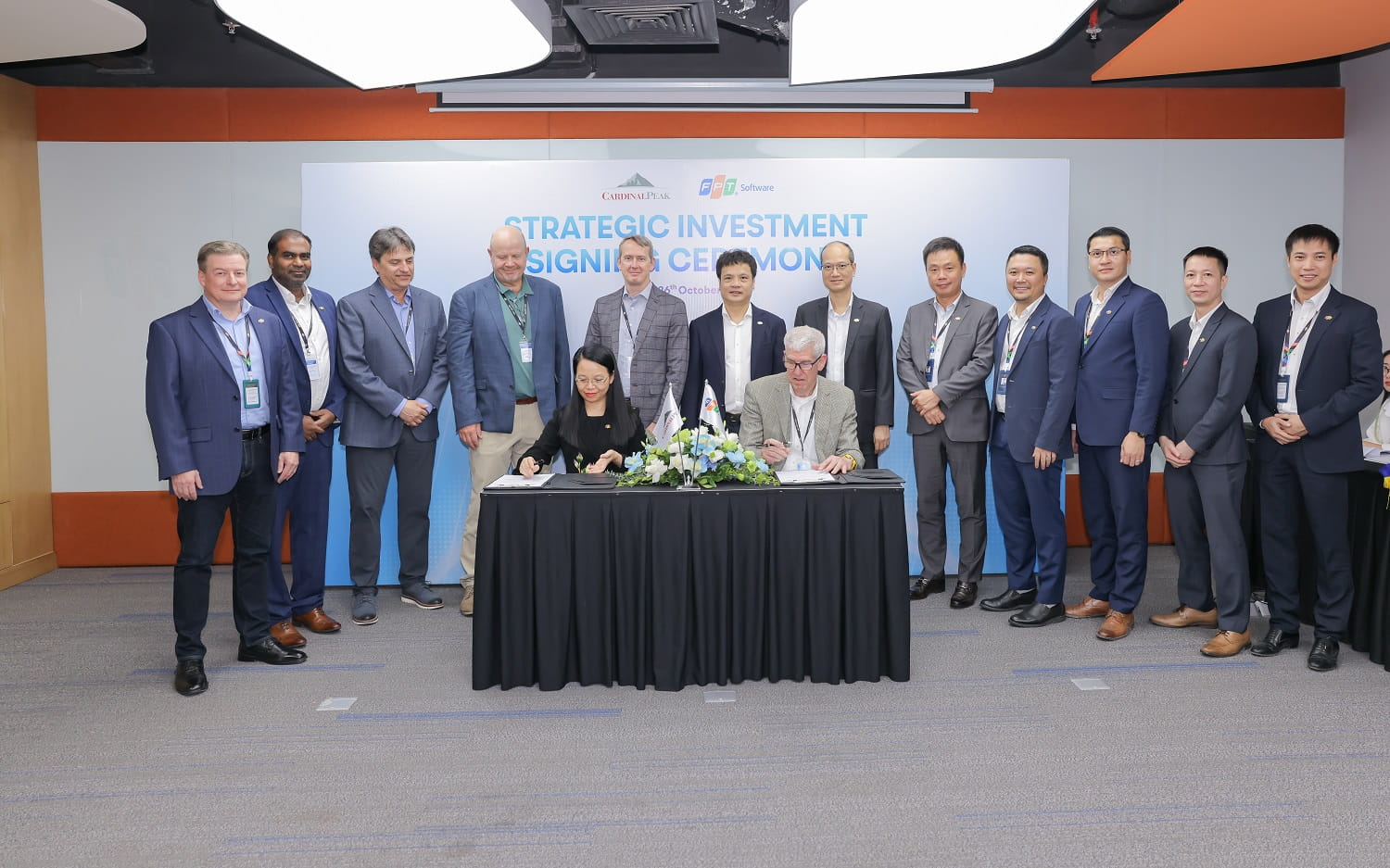 The strategic investment signing ceremony took place in Hanoi, Vietnam, with the participation of Cardinal Peak CEO Mark Carrington, FPT Corporation CEO Nguyen Van Khoa, FPT Software Chairwoman Chu Thi Thanh Ha, FPT Software CEO Pham Minh Tuan, and other senior leaders of the two sides. FPT and Cardinal Peak expressed their alignment in ways of working and a people-focused mindset, as well as optimism for future opportunities. FPT Corporation CEO Nguyen Van Khoa expects that the synergy between FPT and Cardinal Peak will result in new digital products, contributing to the advancement of Vietnam's IT industry.
"Cardinal Peak is a well-respected name in the product engineering industry. The team's track record of effective collaboration and swift innovative solutions delivery will be a tremendous asset to FPT," said Phuong Dang, FPT Software's SEVP and Head of FPT Americas, Europe, and Middle East. "We trust that this will be another fruitful addition to our global expansion."
"We have been very impressed by the capabilities, culture, and resources at FPT," said Mark Carrington, CEO of Cardinal Peak. "We are excited to join the FPT family. With our combined teams, we can provide greater value to our customers, accelerate innovation in the industries we serve, and expand career opportunities for our employees."
Americas is currently among FPT's largest overseas markets, where it has 14 offices across the United States, Canada, and Latin America - including nearshore facilities in Colombia, Costa Rica, and Mexico - and employees in 28 states and provinces.
Since 2014, FPT has been conducting M&A with top technology companies worldwide to strengthen its consulting capabilities, expand its customer base, and increase revenue in overseas markets. Its first M&A deal was in 2014 with RWE IT Slovakia, a subsidiary of the top-tier European energy company RWE; also the first overseas M&A deal of a Vietnamese IT company. In 2018, the firm acquired a 90% stake in Intellinet, a rapidly growing US-based digital transformation consulting company. FPT also made a non-controlling investment and became a strategic shareholder of LTS, Inc., one of Japan's top 20 consulting, business management, and digital transformation companies in 2022. Continuing the expansion in the United States, FPT acquired the entire IT services division of Intertec International in 2023. This October, it became a major investor in Landing AI - a leading computer vision and AI software company in the US.