FPT Software to build a 15.25-hectare technology center in Quy Nhon
•
05/02/2023
×
On February 5, 2023, in Quy Nhon, within the agenda of the Conference to implement the Government's Action Program on realizing the Resolution No. 26-NQ/TW dated November 3, 2022, of the Politburo, FPT Software (a subsidiary of FPT Corporation) officially received the construction permit for its technology center for research, production, and training in Quy Nhon.
The Conference was chaired by Prime Minister Pham Minh Chinh, with the participation of Deputy Prime Minister Tran Hong Ha, representatives of the Ministry of Planning and Investment, localities, and international organizations. Attending the Conference, Mr. Nguyen Van Khoa - CEO of FPT Corporation - and Ms. Chu Thi Thanh Ha - Chairperson of FPT Software - represented FPT in getting the construction permit for FPT Technology Center for Research, Production, and Training (Technology Complex) in Quy Hoa Valley, Area 2, Ghenh Rang Ward, Quy Nhon city, Binh Dinh province. Construction of the first phase is expected to begin in the third quarter of 2023.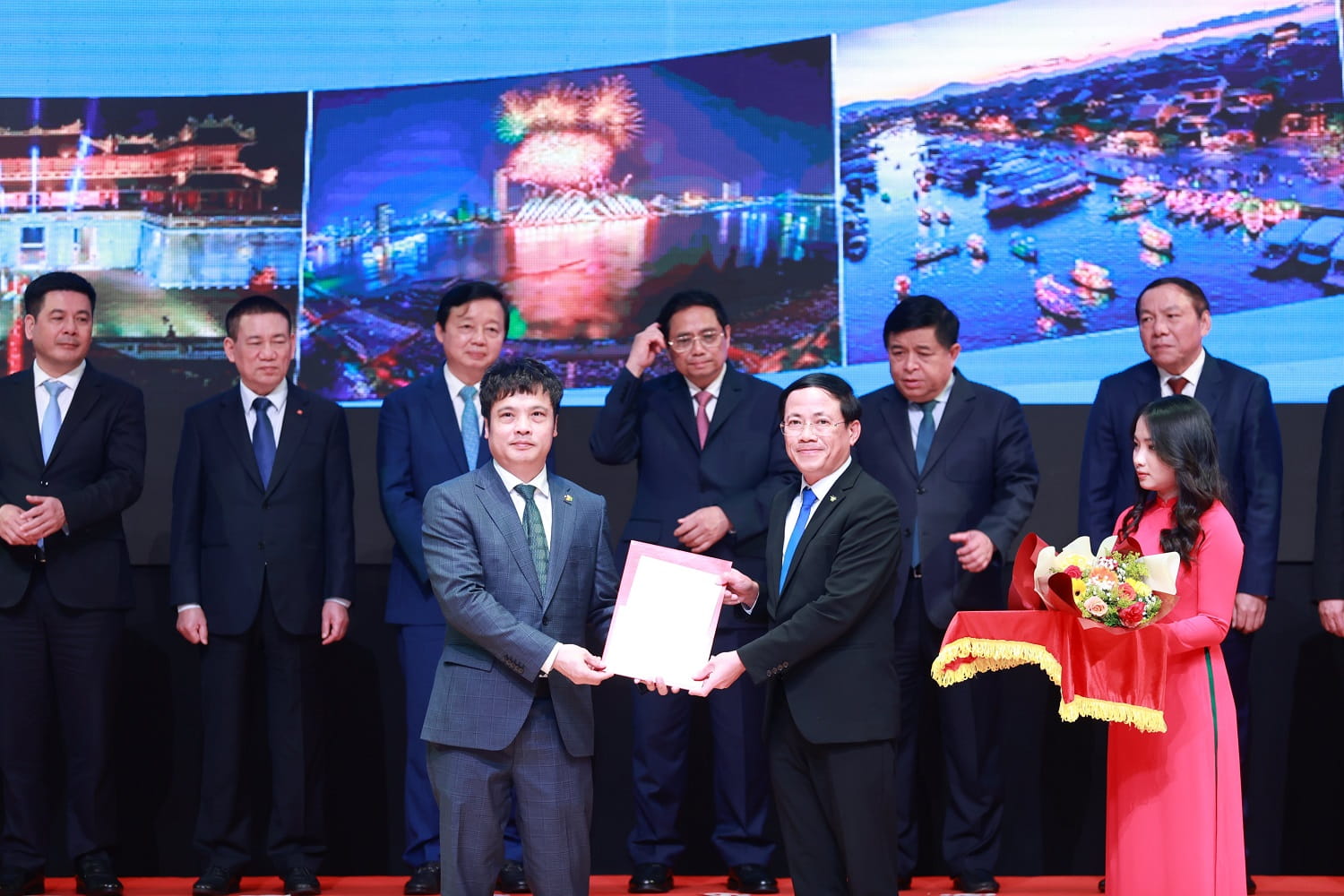 Mr. Nguyen Van Khoa - CEO of FPT Corporation (leftmost) - got the permit from Binh Dinh Provincial People's Committee Chairman Pham Anh Tuan
With a total investment of more than VND 2 trillion, the Technology Complex will be a workplace and a research, development, and learning facility for 20,000 tech personnel. Furthermore, it will contribute to developing high-quality human resources for the locality and attracting an international workforce to turn Quy Nhon into an artificial intelligence (AI) center in Southeast Asia.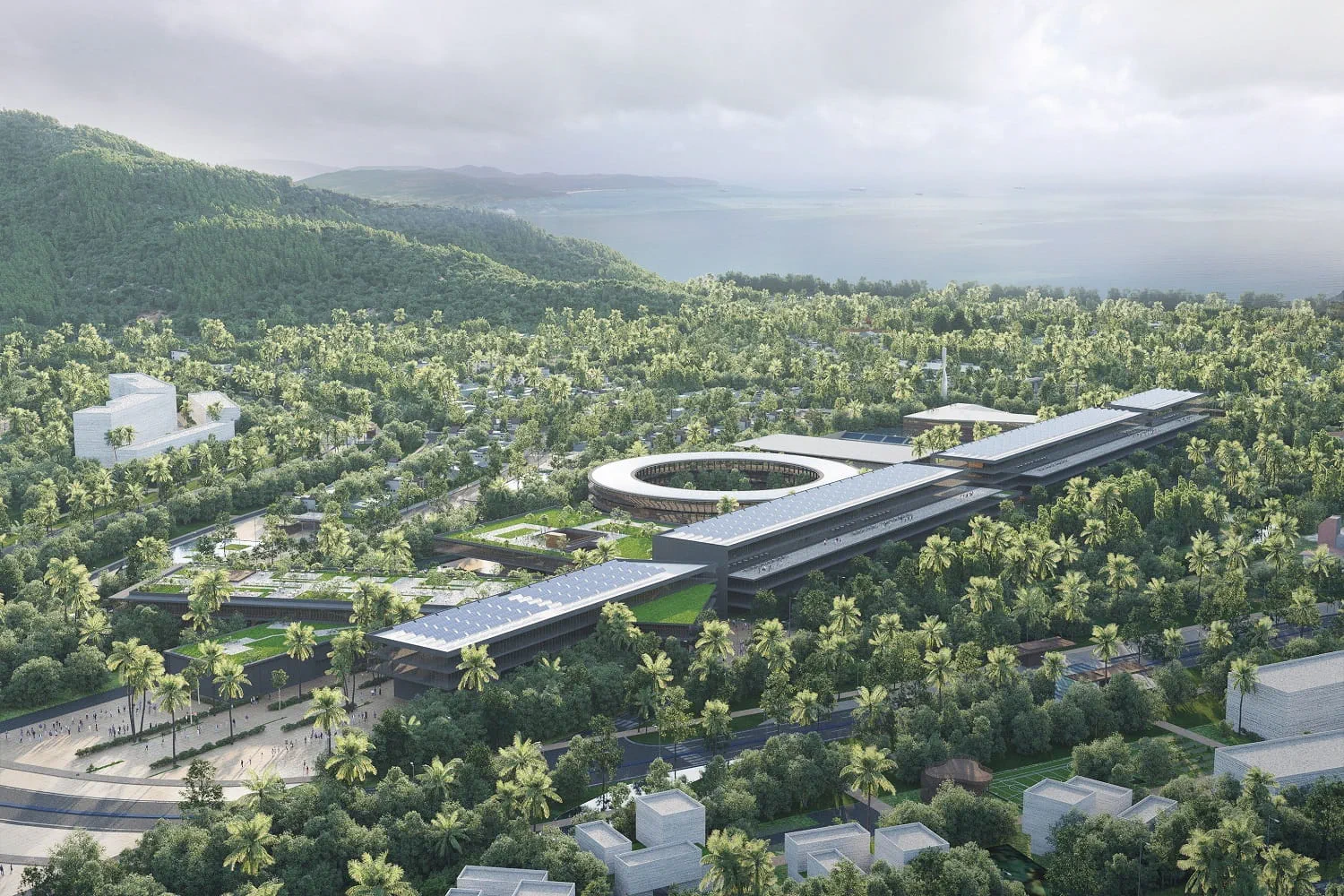 3D view of FPT Software's Technology Center for Research, Production, and Training in Quy Hoa Valley
The project will also provide high-tech services based on global trending technologies such as AI, Big data, the Internet of Things (IoT), and automation..., improving the competitiveness of Vietnamese tech enterprises and promoting technology as a critical economic sector in Binh Dinh province.
In addition, FPT Software also proposed to build a welcome gate outside the project's boundaries, right at Science Boulevard, as a highlight for the Quy Hoa Science and Education Urban Area.
Binh Dinh is a good land that attracts investors by all favorable factors in terms of natural and socio-economic conditions and simultaneously-invested industrial parks and traffic infrastructure.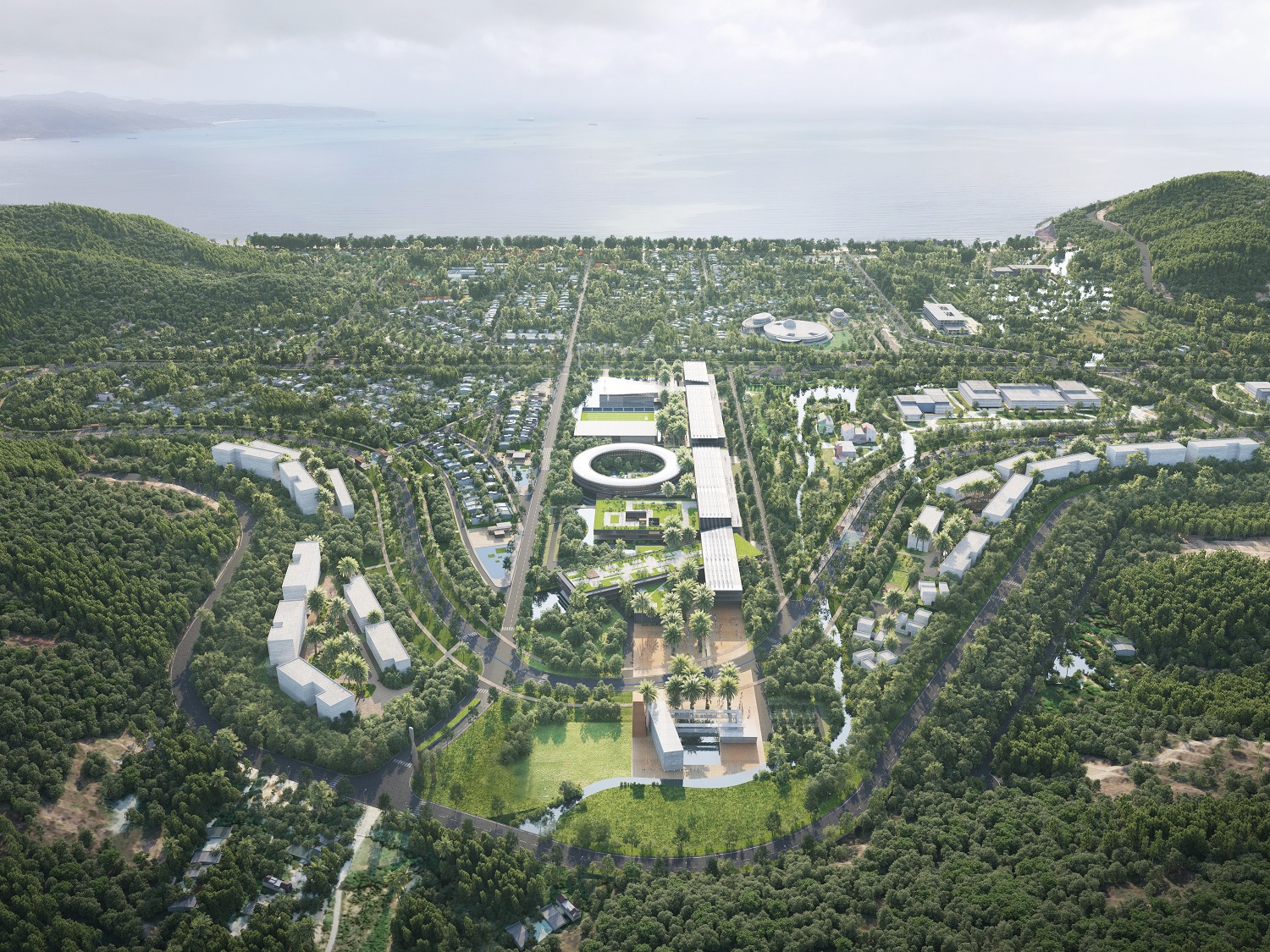 The Complex designed by FPT Software is a good combination of utilities to foster the technology community.
FPT has always nurtured the desire to turn Binh Dinh into the region's leading artificial intelligence (AI) center, fully capable of experimenting with the world's latest technologies. In 2021, FPT Corporation signed a provincial planning agreement with Binh Dinh for 2021-2030 with a vision to 2050 and a cooperation agreement to promote digital transformation in 2021-2025. Those were significant milestones in realizing their aspiration.
Previously, FPT had also made a deal with Mila - the world's leading AI Research Institute - within three years (2020-2023). Accordingly, one of the most important goals of this partnership is to develop a global AI Research Center in Quy Nhon based on Mila's advice and experience. The construction project of FPT's AI Center in Quy Nhon has a scale of about 94 hectares with a total investment of more than VND 4,362 billion. The project includes a technology research and development center specializing in AI, software manufacturing facilities, and other ancillary works.
In the field of education, FPT University has opened a campus in Binh Dinh for undergraduates and graduates, providing training and other educational support services and scientific research to meet the needs of about 5,000 students.
In the field of software, FPT Software has established a new branch in Quy Nhon and grown to a team of over 550 employees, attracting more than 20 large corporations worldwide to visit and partner. In particular, the 2022 Quy Nhon AI Hackathon (AI4VN) competition, jointly organized by FPT Software nationwide, has received thousands of participants solving the social issue of applying AI to enhance the travel experience in Quy Nhon city. As a result, they expected that the number of employees of FPT Software in Quy Nhon would reach 3,000 by 2025.
In the past three years, FPT Software has achieved many international achievements in AI. The strategic cooperation between FPT Software and Landing AI (founded by Andrew NG) to distribute one of its flagship products - LandingLens™ for testing in the manufacturing industry - was an example. Another one was the AI Residency program in collaboration with Mila - the AI Institute (Canada) - that supported numerous employees of FPT Software to get intensive training and paved the way for FPT's research works to be present in the world's leading conferences and seminars.
These valuable partnerships have improved FPT Software's capabilities and contributed to its professional and human resource development. In 2022, the company reached a noteworthy milestone by owning the first US-certified machine learning patent. Establishing a complex construction in Quy Nhon, FPT Software hopes to turn this place into the leading regional hub for AI development, even leaving an imprint on the global tech map.
As a top provider of technology solutions & services in Asia, FPT Software recorded revenue of USD 801 million in 2022 with 27,000 employees working in 29 countries worldwide. It already has three large campuses that serve up to tens of thousands of people in Hanoi, Da Nang, and Ho Chi Minh City.