FPT Won 8 Awards of Top 10 Vietnam's IT Enterprises in 2022
•
10/09/2022
×
Hanoi, September 10, 2022 - FPT and 04 subsidiaries were honored as Top 10 Vietnam's IT Enterprises in 8/21 voting domains in the award ceremony organized by the Vietnam Software and IT Services Association (VINASA). In addition, they were also recognized as the first members of the Trillion-Dollar Business Club. In particular, FPT is the only enterprise awarded "Top 10 EdTech enterprises".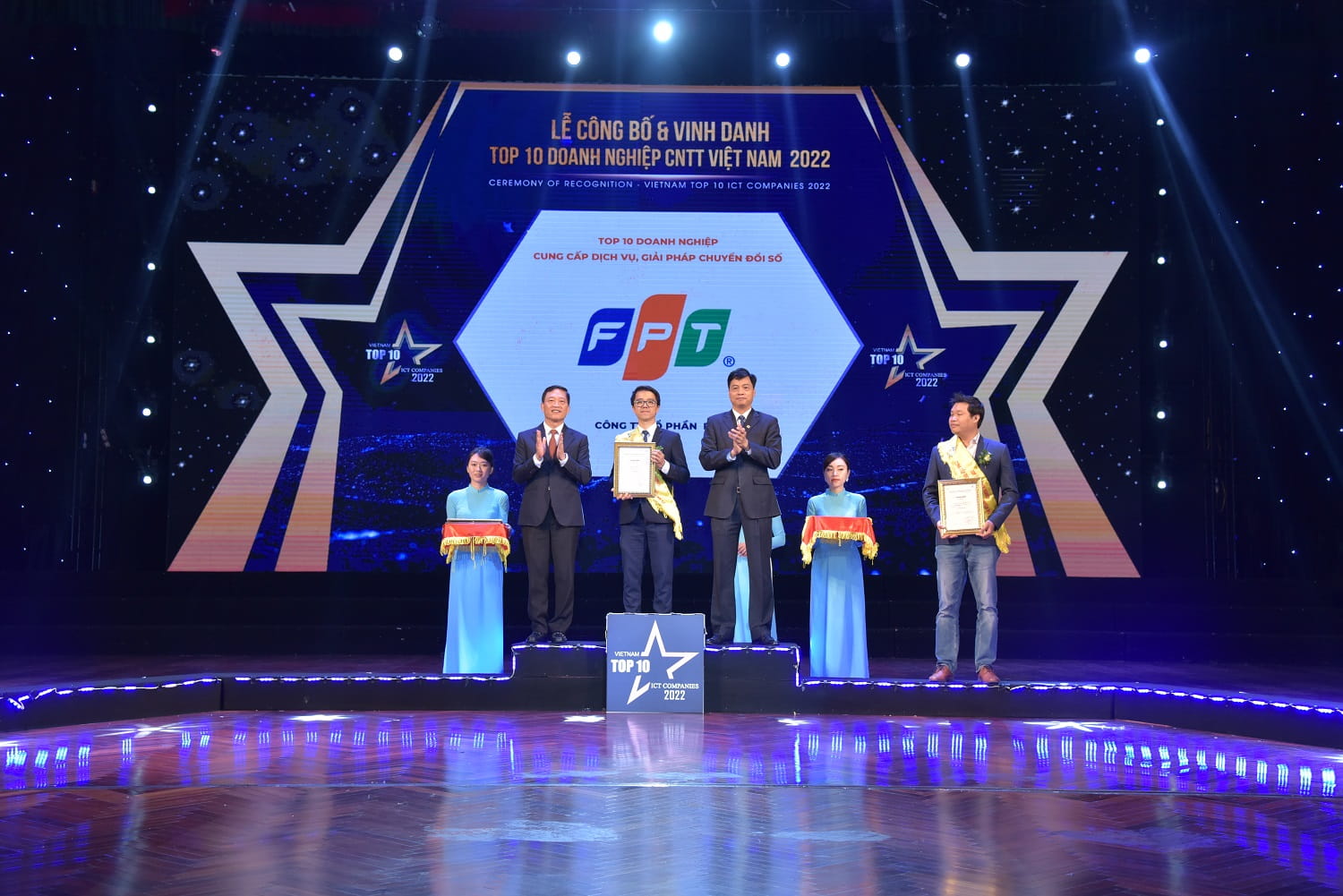 Representative of FPT Corporation - Mr. Le Hung Cuong, Deputy General Director of FPT Digital - received the Top 10 Digital Transformation Enterprises award
The voting program for Top 10 Vietnam's IT Firms was launched to certify and honor Vietnam's leading IT - Communication enterprises, thereby directly strengthening the prestige and enhancing the reputation of the Vietnam IT - Communications Industry on the global tech map.
Specifically, FPT and its subsidiaries were honored as Top 10 in 08 fields, including: Top 10 Enterprises providing services and solutions for digital transformation; Top 10 Enterprises providing digital transformation platform; Top 10 Enterprises providing digital infrastructure, cloud computing services, big data; Top 10 FinTech Enterprises; Top 10 PropTech Enterprises; Top 10 Information security and safety enterprises; Top 10 Smart City Solution Providers; Top 10 EdTech Enterprises.
In each award-winning field, FPT and its companies have affirmed their capabilities, position, and reputation with unique, high-quality products in technology, including: The comprehensive Artificial Intelligence platform - FPT.AI; The new generation cloud computing platform - FPT Cloud; a group of core and overall solutions for the banking - finance sector; a set of solutions and services for information security and safety; a set of specific solutions developed on the basis of SAP for the Real Estate - Construction industry; Online education systems as VioEdu and Violympic; smart city solutions with FPT Camera AI and FPT Smart Home.
Along with being in the Top 10 in various categories, FPT and three subsidiaries, including FPT Software, FPT IS, and FPT Telecom, were the first members of the trillion-dollar business club. It is also the first year that the Organizing Team of the Top 10 Vietnam's IT Program selected, established, and announced the dollar-and-cent-based club.
According to the Organizing Committee, one of the crucial goals of choosing members for the business club is not only to affirm the stature of Vietnamese technology brands but also to build pioneers for the industry. As a result, the club will encourage companies to invest more heavily in leading technologies. Furthermore, it will drive the market to realize the goal of 100,000 digital enterprises and at least ten digital technology enterprises with leading roles, international competitiveness, and over $ 1 billion in revenue by 2030.
Speaking at the event, Mr. Nguyen Huy Dung, Deputy Minister of Information and Communications, said that the business perceptions greatly impacted the market size. The broader firms perceived, the bigger the market became. Therefore, digital technology enterprises should stick their missions to the nation's mission to go further and be more sustainable. According to Mr. Nguyen Huy Dung, the Ministry of Information and Communications called on digital technology businesses to jointly develop digital platforms so that individuals and companies could access technological applications as services cost-effectively and simply.
Mr. Nguyen Van Khoa, President of VINASA and CEO of FPT, responded: "Vietnamese digital technology enterprises are shouldering the pioneering mission in the national digital transformation. They are increasingly becoming digital transformation partners of domestic and international agencies, organizations, and businesses. However, the gap between corporations and small businesses is still quite large. VINASA will accompany businesses to shorten this gap so that we can go together to create a strong, ready-made ecosystem to compete in the global market".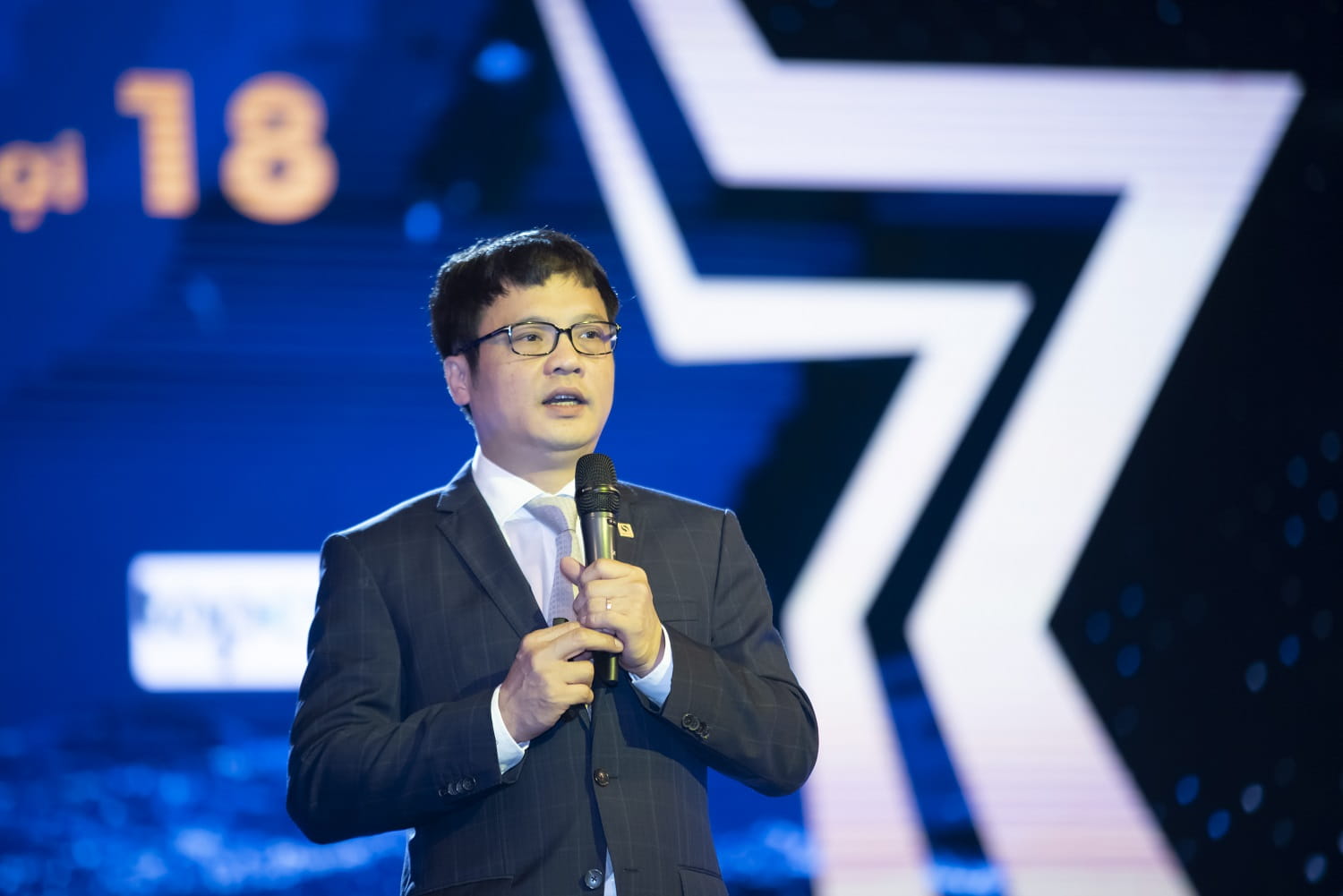 Mr. Nguyen Van Khoa, President of VINASA and CEO of FPT, shared at the Award Ceremony of Top 10 Vietnam's IT Enterprises 2022
The TOP 10 IT enterprises 2022 chooses candidates in 21 fields into five groups, including: Traditional areas of the IT industry (digital transformation platform, software outsourcing, and IT services, BPO, digital transformation services and solutions, IT services and solutions, ICT equipment manufacturing and distribution); priority areas for digital transformation (digital government, smart city, e-commerce, FinTech, EdTech, PropTech, HealthTech, AgriTech); enterprises with capabilities in new technologies (A-IoT, Blockchain, digital infrastructure, cloud computing, big data, security, and information safety); Digital Startup businesses and special considerations (with impressive growth or trillion-dollar enterprises).
There were seven criteria to be evaluated: financial indicators, human resources, products, technological capacity, management work, achievements, and industry-specific assessment criteria. The evaluation process consisted of 3 rounds: Pre-qualification, Presentation and Realistic appraisal, and General election.
As the leading technology company in Vietnam, FPT is ahead of new global technology trends, leading the development of the domestic technology market and meeting the urgent needs of businesses, organizations, and individuals globally while creating a growth momentum for the Corporate in the long term.
In 2022 and the following years, the Made-by-FPT ecosystem will be increasingly invested based on trend-leading technologies such as AI, Cloud, Big Data, Blockchain, and Hyper Automation. It will help develop and provide open, reliable, flexible, intelligent, secure, and highly applicable products, solutions, and platforms in all fields such as e-government, transportation, healthcare, finance banking, telecommunications, education, production, and consumption… For many years, the ecosystem has helped businesses and organizations of all sizes and fields accelerate the digital transformation process, increase productivity, and save costs, aiming to become a digital company and promoting the development of digital government, digital society, and digital economy.