FPT Techday 2023 Envisions a Happier Future Driven by Technology
•
24/10/2023
×
HANOI, Vietnam – October 26, 2023 – FPT Corporation (FPT) organized its biggest annual tech event – FPT Techday 2023 - as a momentous occasion for FPT in celebrating its 35th anniversary. The event, which attracted 10,000 attendees, showcased FPT's commitment to innovation and its vision of "Building a happier future".
FPT Techday, organized for the 11th consecutive year, has become one of Vietnam's most renowned tech expos, bringing together government officials, business leaders, technology experts, and enthusiasts. The two-day event featured an exhibition and tech conferences, focusing on demonstrating a happy journey for digital citizens (D-citizens). FPT also presented its ecosystem of products and services that cater to every D-citizen's needs in terms of essentials, education, lifestyle, working, manufacturing, and future outlook. This "Made-by-FPT" ecosystem was presented in an exhibiting area of 8,000-meter squares, along with the products and solutions from some of FPT's partners such as Schaeffler, Konica Minolta, AFLAC, SC Ventures, Olympus, NXP Semiconductors, and Ingenico Group.
One of the event's highlights is the launching of Happy Club, an AI-driven customer loyalty program developed by FPT, in alignment with the Digital Conglomerate 5.0 strategy (DC5) which aims at creating a happier future for people, success for organizations and prosperity for the nation.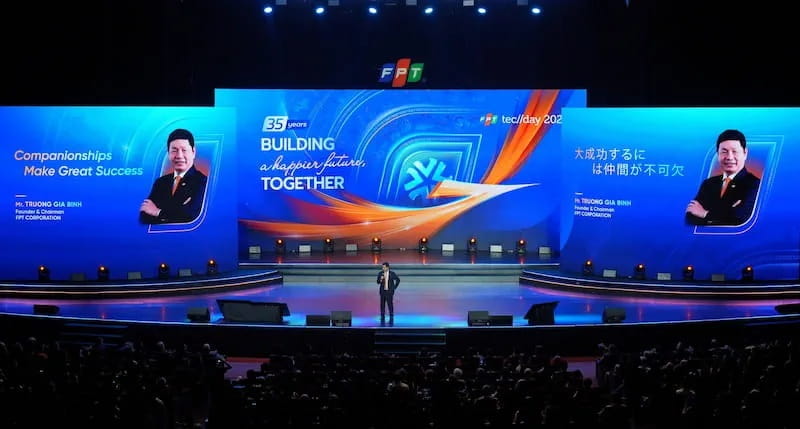 FPT Chairman Truong Gia Binh delivered opening remarks at FPT Techday 2023, Hanoi
Sharing about the company's vision, FPT Chairman Dr. Truong Gia Binh said: "FPT wants to create a happy journey for every individual and every business. We have an ecosystem of products and solutions that cater to the fundamental aspects of human life, including education, work, healthcare, and many more. FPT is committed to accompanying our customers towards a happier future."
FPT Techday 2023 offers opportunities for businesses and tech enthusiasts to gain more insights about a future driven by tech innovations. Its conference features business leaders, tech experts and consultants from global businesses and organizations like Landing AI, Viessman, HBR Analytic Services, NVIDIA, Aitomatic, inc., Cox Automotive, Schaeffler, IDC, Bain & Company, KDDI Digital Divergence and more. Their presentations and panel discussions cover a variety of topics such as accelerating digtal transformation through scale and agility, business resilience in the challenging global environment, Vietnam's momentum as a global digital hub and its digital economy competency, co-innovation with a technology vendor, Generative AI as a transformation accelerator, among others.
During FPT Techday 2023, FPT and two of its subsidiaries, FPT Software and FPT Information System disclosed new partnerships with the world's digital payments leader VISA and Japanese global printing TOPPAN. Additionally, FPT announced it has become a major investor in Landing AI, a US-based computer vision and AI company. These partnerships enable FPT to continue expanding across markets and improving its products and services, aiming to provide a better experience to customers and fulfil its vision of creating a happier future on a global scale.