FPT Wins AsiaMoney Asia's Most Outstanding Company for the Second Year in a Row
•
21/09/2022
×
AsiaMoney - the leading economic and financial magazine in Asia - has just published the list of the most prominent companies in Asia 2022 (Asia's Outstanding Companies Poll 2022), in which FPT was honored in two categories: by market and by field of operation. FPT has been named in critical categories of the AsiaMoney awards for the second time.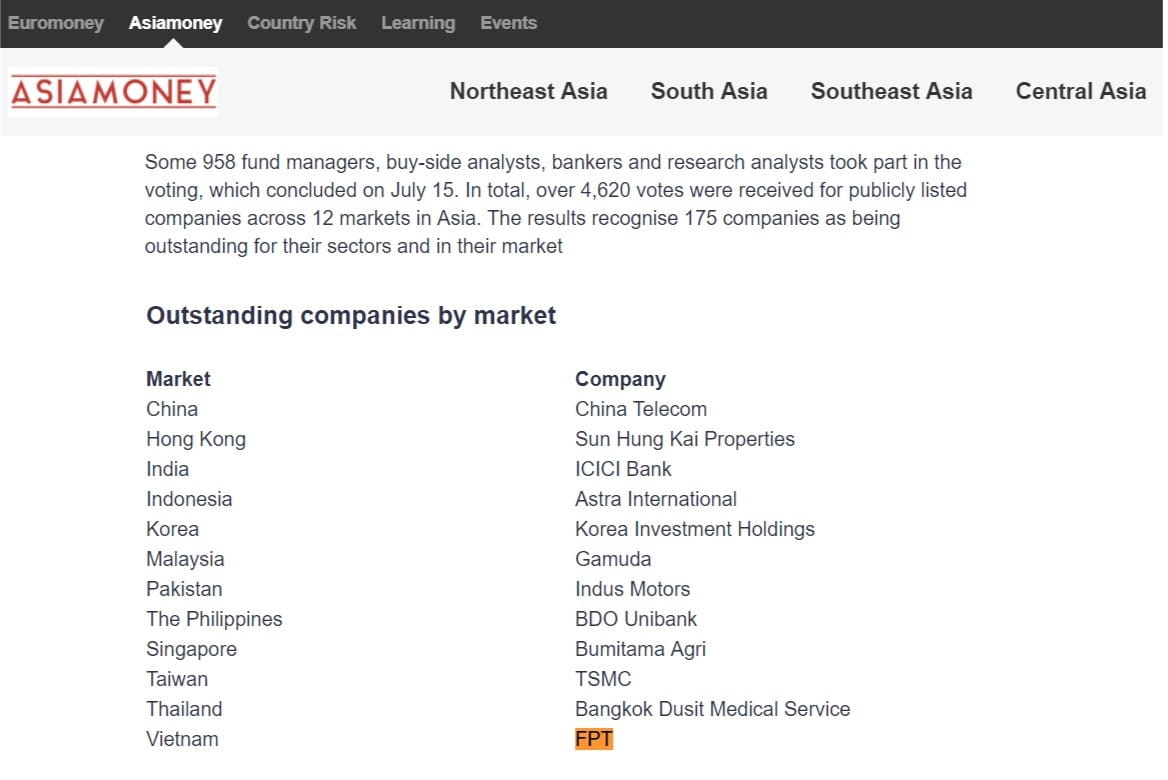 FPT was awarded AsiaMoney Asia's Outstanding Company for the second year in a row
The Asia's Outstanding Companies Poll 2022 honors superb businesses in 12 Asian markets based on various aspects such as finance, excellent management team, investor relations (IR) activities, and corporate social responsibility (CSR) initiatives.
According to AsiaMoney, FPT is the most prestigious firm in Vietnam. In addition, the Awards also honor 13 companies in technology, telecommunications, banking, real estate, energy, consumption... and FPT also keeps its leading position in Information Technology and Telecommunications Services. The remaining 12 Vietnamese companies were Vietnam Engine and Agricultural Machinery Corporation (VEAM), Vietcombank, REE, MWG, Vinamilk, PetroVietnam Gas, PetroVietnam Power, VNDIRECT, DHG, Hoa Phat, Vinhomes, Gemadept.
FPT was selected for its outstanding achievements due to efforts to overcome challenges, especially in the two years after the Covid-19 outbreak. As a result, its business results have grown steadily, focusing on corporate governance, investor relations, and positive contributions to the community, promoting digital transformation and the development of the digital nation.
In the first eight months of the year, FPT recorded revenue of VND 27,060 billion and profit before tax of VND 4,951 billion, up 24% and 23.6%, respectively, compared to the same period last year. Digital transformation revenue grew highly at 41%, reaching VND 4,657 billion. As a result, profit after tax reached VND 4,221 billion, up nearly 28%. Profit after tax for shareholders of the parent company and EPS reached VND 3.409 billion and VND 3.117, respectively, up 29,6% and 29%.
Born in 1989, AsiaMoney is Asia's leading in-depth economic-financial magazine under the global media group Euromoney Institution Investor PLC. Every year, AsiaMoney hosts polls and awards to recognize outstanding businesses. In 2022, 958 investment fund directors, strategists, analysts/researchers participated in the poll to find the best out of 175 enterprises in 12 Asian markets.