Having Its SAP ERP System Go Live, Stavian Signed the Cooperation Agreement With FPT
•
10/01/2023
×
After one year of implementation, the SAP ERP business management system of Stavian Group has officially come into operation, marking Stavian's development in the era of digital technology. Also, during the go-live ceremony, Stavian Group and FPT Corporation signed a comprehensive cooperation agreement, applying digital solutions to the operation processes to improve efficiency and increase the Group's competitiveness in the international market.
On January 9, 2023, the SAP ERP Go-live Ceremony & Signing of a comprehensive cooperation agreement between Stavian Group and FPT Corporation took place at the headquarters of Stavian Group in Hanoi. On behalf of Stavian Group was Mr. Dinh Duc Thang - Chairman and CEO of the Group. Mr. Nguyen Van Khoa - CEO of FPT Corporation - and Mr. Nguyen Hoang Minh - CEO of FPT IS - represented FPT. And on behalf of SAP, there was Mr. Nguyen Hong Viet - CEO of SAP Vietnam.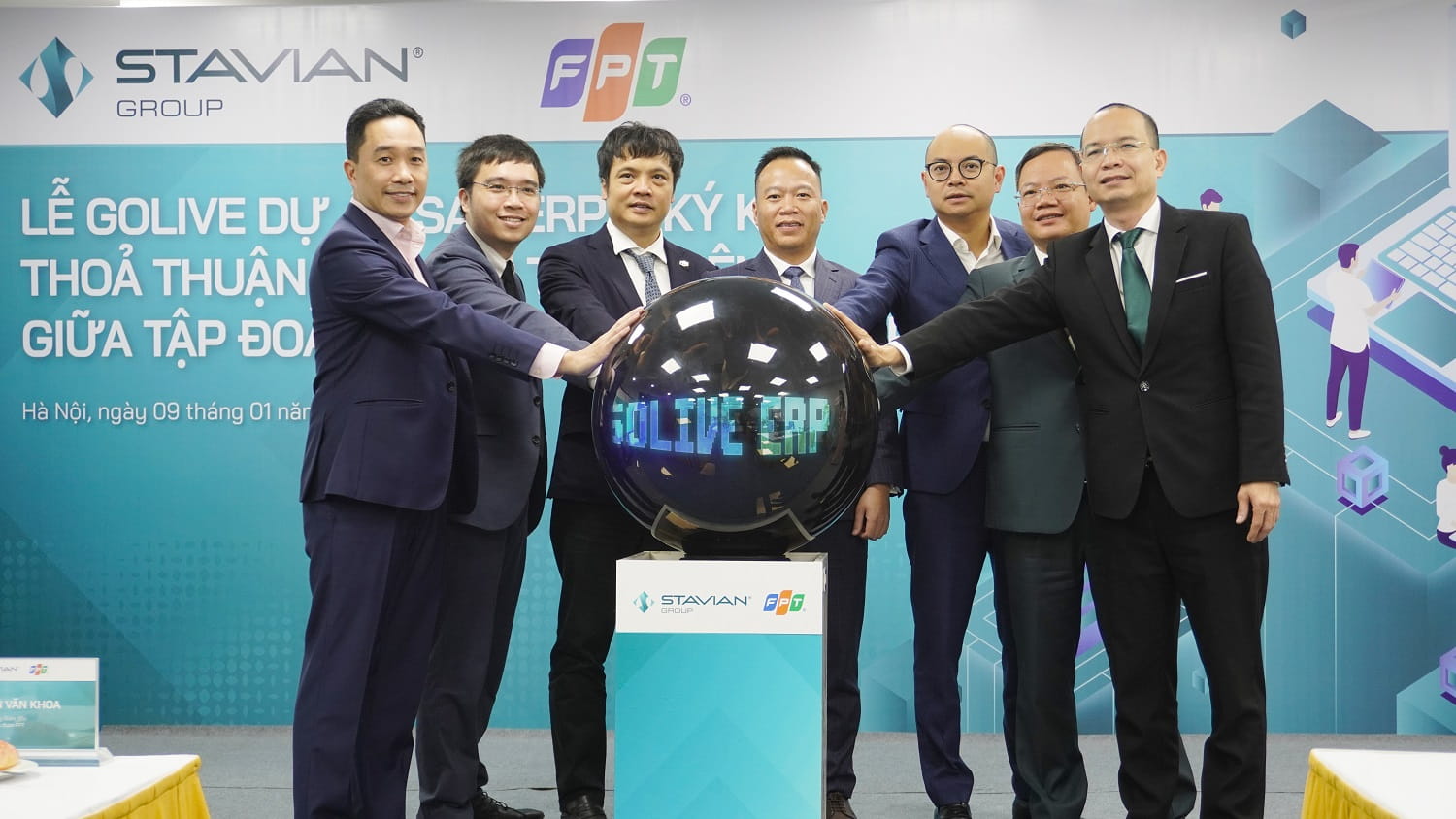 Stavian Group plays a vital role in the supply chain of petrochemical products in Vietnam and globally. With its business strategy focusing on petrochemicals, chemicals, pulp and paper, new high-tech materials, the recycling industry & circular economy, industrial parks, logistics, and investment in 4.0 start-ups, digital transformation is one of its key development orientations in the coming time. Furthermore, in the context of increasingly complex import-export and international trade activities, while having to handle multiple member companies, Stavian Group has to face the issue of decentralized data, which makes it difficult for staff to get access to information systems. Therefore, applying digital solutions in the HR management system comprehensively is the core strategy that Stavian Group has gradually implemented and got initial success.
In response to Resolution No. 21-NQ/BCĐD on Digital Transformation to 2025 and the orientation to 2030 of the Government, Stavian Group has officially deployed the SAP S/4 HANA business management system – a technology platform firmly following international standards - in its business and governance. As a digital solution provided by FPT Information System (FPT IS, a subsidiary of FPT Corporation), the system meets the four pillars of Stavian's activities, including enhancing corporate governance, unifying partners' connections, improving customer experience, and integrating machinery, equipment, and tools. The SAP ERP solution was critical for Stavian Group to continue to streamline its operating system, help the management team deepen corporate governance, improve its competitiveness and expand the business in the international market. The SAP ERP Go-live Ceremony was a significant milestone for Stavian Group's initial successful implementation of digital transformation.
Likewise, within the framework of the Ceremony, Stavian Group and FPT Corporation signed a comprehensive partnership agreement. Accordingly, FPT would accompany Stavian in developing management solutions for agents and distributors, deploying business process automation, and managing such solutions: Domestic and international transmission services, Internet connection, advanced digital transformation solutions (based on AI, Chatbot, RPA, Data Analytics, Blockchain...).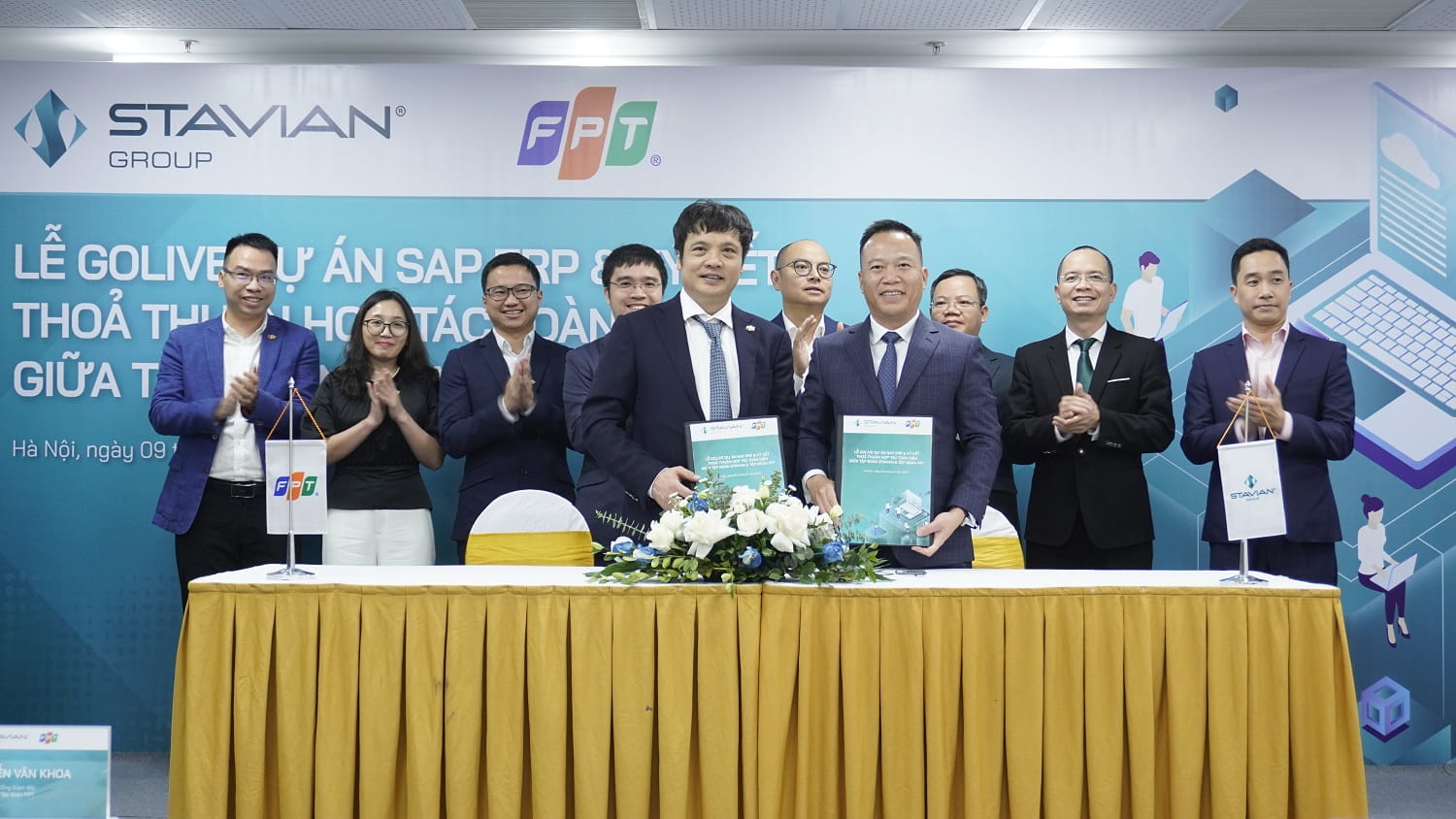 Mr. Dinh Duc Thang - Chairman of Stavian Group - and Mr. Nguyen Van Khoa - CEO of FPT Corporation - signed the cooperation agreement.
Chairman of Stavian Dinh Duc Thang said: "The SAP ERP system is the foundation for Stavian to jump into the next growth phase. With the vision of becoming a multinational industrial group, digital transformation is a sustainable step that brings us profits and increases our competitiveness in the global market. We believe that FPT will strongly support Stavian in accelerating digital transformation, thereby standardizing the entire business processes, centralizing data, and closely connecting business units according to the standards of top corporate governance models. The cooperation with FPT Corporation is one milestone on the journey of making Stavian Group a leading digital industrial enterprise in Vietnam and the region."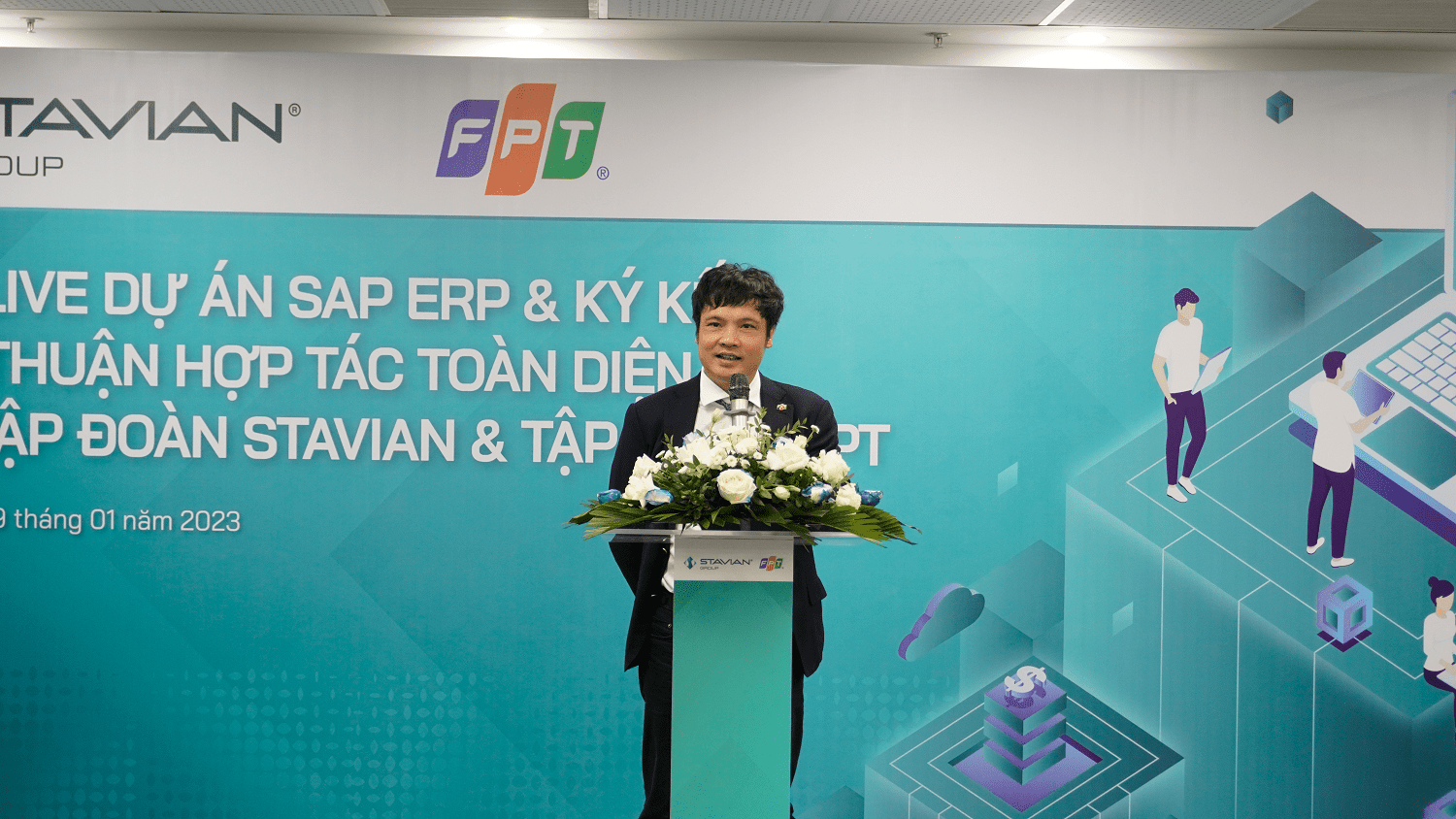 Mr. Nguyen Van Khoa - CEO of FPT Corporation - agreed that the partnership between the two companies would boost the digitization process for Stavian.
"The application of SAP ERP and FPT's end-to-end digital transformation solutions will help Stavian, one of the leading enterprises in the petrochemical industry in Vietnam, accelerate digitization. FPT is committed to investing resources and technology to accompany Stavian on the journey to realizing the strategic goals, turning technology into business advantages, and bringing cooperation to success. We hope to be the trusted partner that stands side by side with Stavian and other manufacturing enterprises, providing the right solutions to the organization and contributing to the development of Vietnam's digital economy, " shared Mr. Nguyen Van Khoa - FPT's CEO.