PC1 in discussion with FPT about the orientation toward digital transformation
•
21/09/2022
×
On September 20, PC1 Group Joint Stock Company - the "giant" in Vietnam's electrical work and installation industry - visited FPT with the desire to set out the approach and look for solutions and companions for digital transformation. FPT's Chairman Truong Gia Binh, FPT IS's CEO Nguyen Hoang Minh, and senior consultants welcomed PC1's Chairman Trinh Van Tuan and its BOD.
After 59 years of development, PC1 Group has been affirming its leading position not only in the field of electrical construction but also in the pillars of EPC (Engineering, procurement, and construction) general contractor, industrial production, energy investment, residential and industrial real estate, technology investment, and new material innovation. In 2021, the Group achieved impressive business results: output of VND 15,516 billion, revenue of VND 14,495 billion, and profit after tax of VND 639 billion. Focusing on the strategy of Renewable Energy and Sustainable Development, PC1 also sets a strategic vision for digital transformation to create disruptive evolution for the Group in the next period.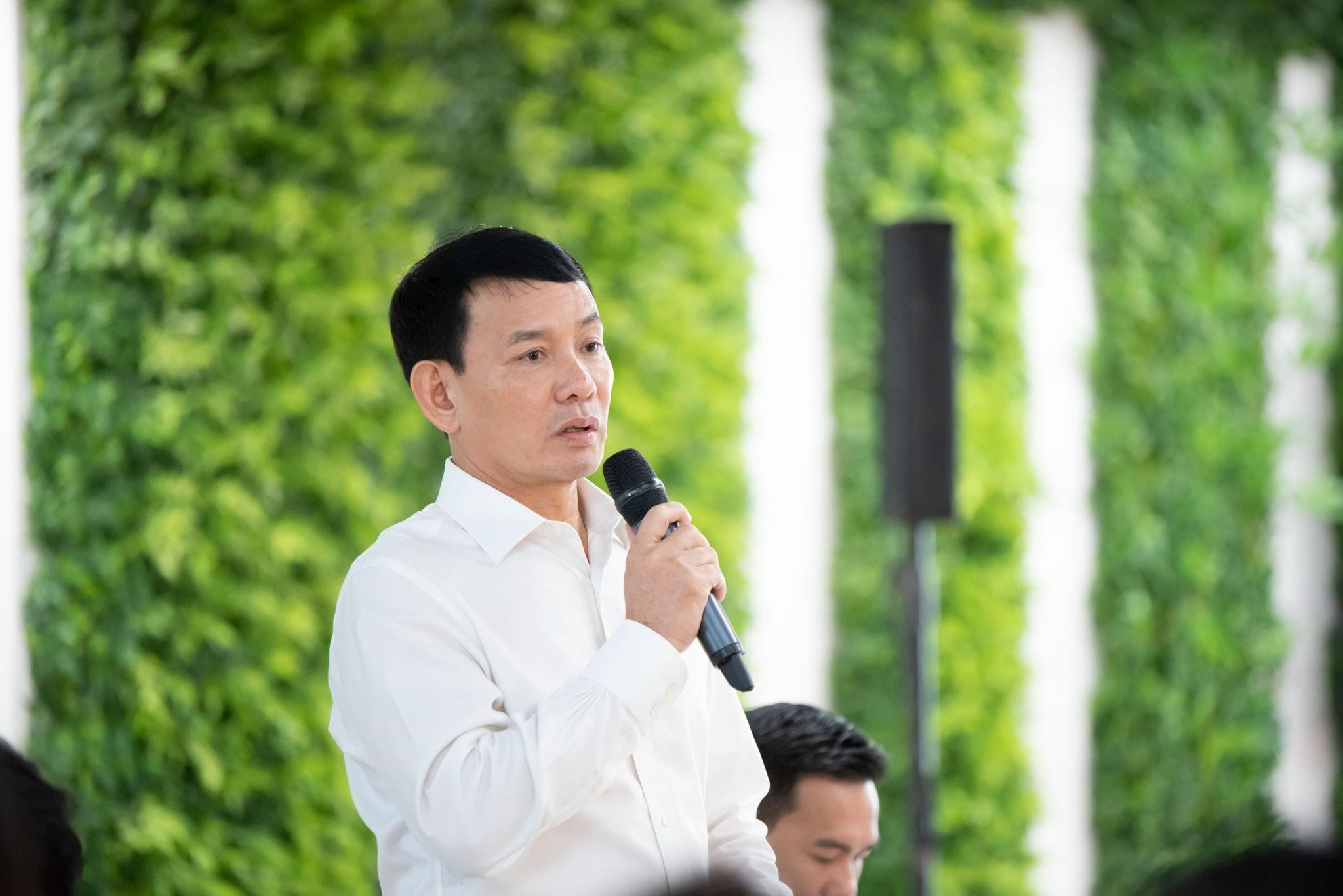 Mr. Trinh Van Tuan - Chairman of PC1 Group - spoke at the meeting with FPT Corporation
Opening the meeting, Mr. Trinh Van Tuan said, "Soon accompanying FPT on the digital transformation journey, PC1 expects to share not only knowledge but also the right technology solutions to solve the urgent problems and meet long-term requirements of the Group".
On behalf of FPT, Chairman Truong Gia Binh expressed his honor to have the opportunity to work with PC1. Mr. Binh has shared his knowledge on the determinants for success in digital transformation, helping solve complex issues such as doubling/quadrupling revenue with human resources staying the same. He also mentioned digital transformation formulas such as 3H, 3S, and 3C in the FPT Digital Kaizen methodology - the "recipe for success" that has been drawn after years of research and application within the Corporation as well as in thousands of Vietnamese and international enterprises. According to FPT's Chairman, the core of the strategy must be the "Heart" - the desire to "revolutionize" the digital transformation, which will lead to the "Head" - how to do that, and finally, the "Hand" - what to take action. In the opinion of Mr. Nguyen Cuong Manh - Head of PC1 Digital Transformation Department, thinking big but not realistic also resulted in 85% of companies failing at digital transformation.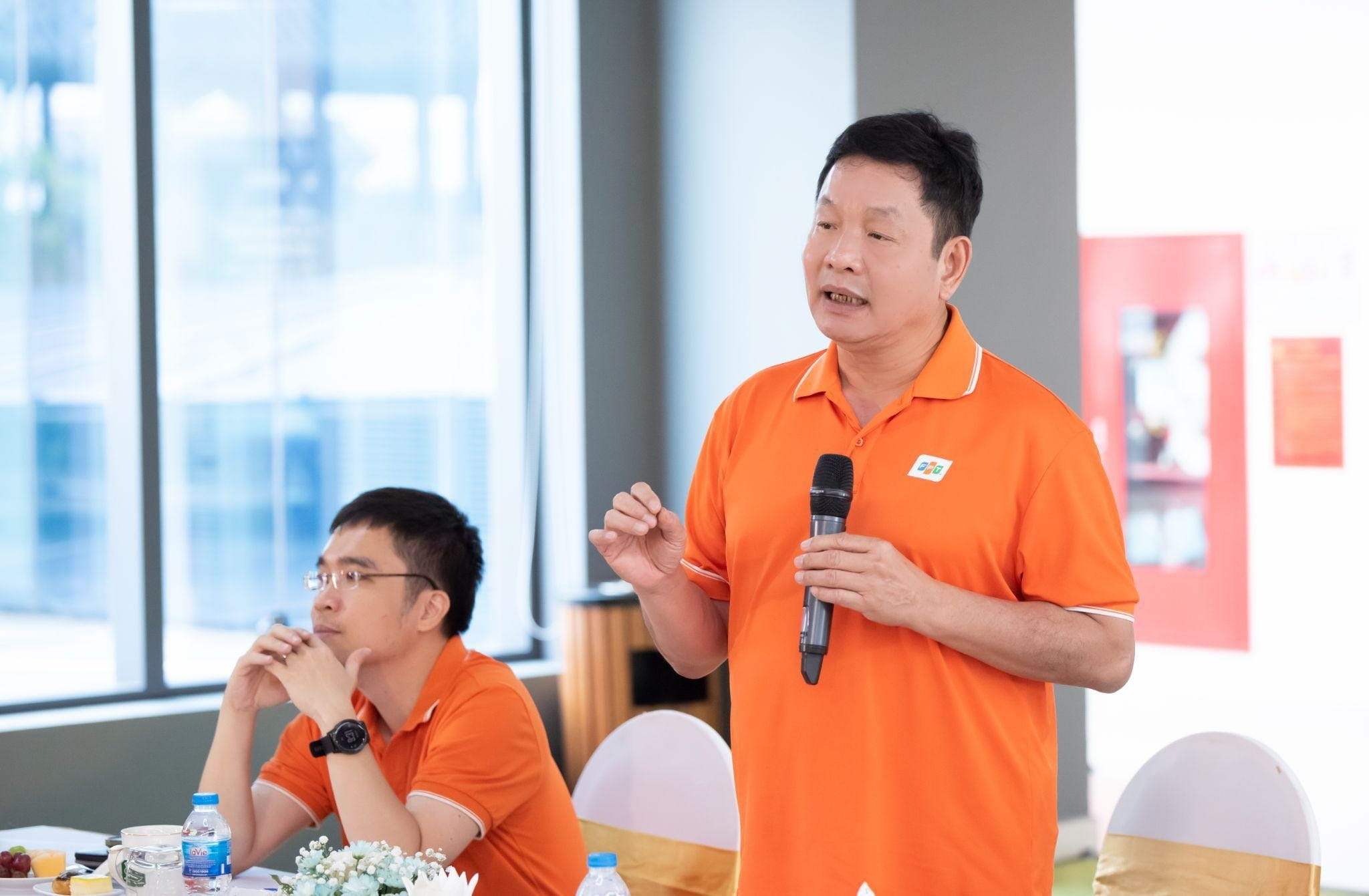 Mr. Truong Gia Binh, Chairman of FPT, shared at the meeting
The work session was held with a "round-table" type seating arrangement to promote open discussion. Besides, FPT prioritized suggesting some solutions suitable for PC1 in the immediate period. The talk on the topic "Expectations and practical challenges in digital transformation planning" took place with the sharing of PC1 and FPT leadership representatives and FPT senior technology experts. They identified pain points and expectations in PC1's digital transformation path, aiming to achieve $1 billion in revenue and $1 billion in market capitalization by 2025 and affirming its No.1 position in Vietnam.
According to Mr. Trinh Van Tuan, PC1 has always been an organization of knowledge and technology, not merely a construction company. Between 2025 and 2030, it targeted to achieve superior digital maturity compared to other enterprises in the same industry. That goal was set based on PC1's existing national positions: the leader in green energy development, the top EPC general contractor that meets international standards, and the pioneer in specialized digital products such as "Made by PC1" earth-digging robots that could make laying undersea cables.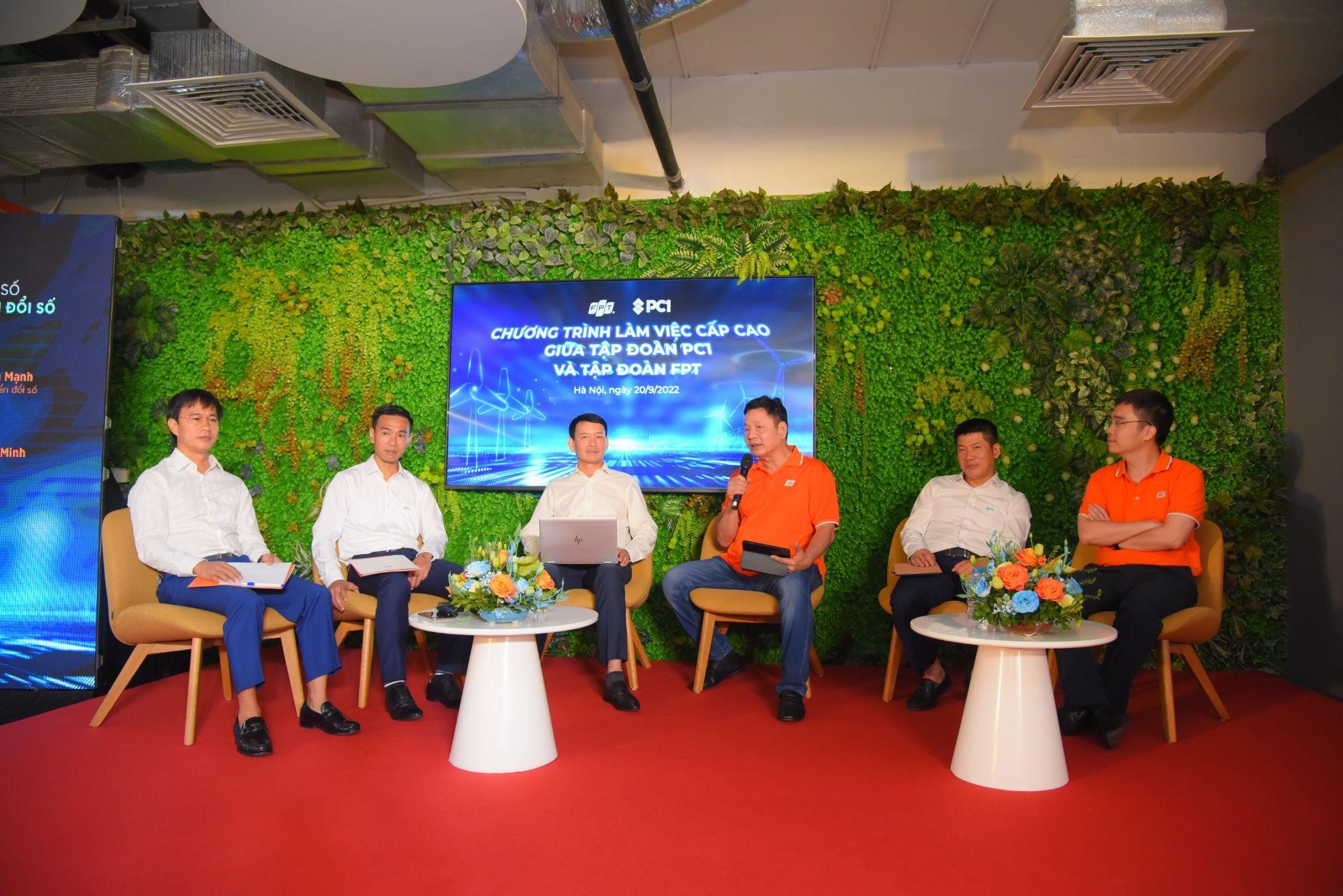 Representatives of FPT and PC1 at the meeting
PC1 needed a partner to help "break down" barriers of procedures and digital transformation maps, evaluate digital transformation efficiency and allocate resources optimally in terms of quantity and capacity, thereby helping investment and business activities be proactively developed in a robust ecosystem.
From the shares of PC1's Chairman, Mr.Binh and FPT's experts have given the orientations to help PC1 "Think Big", "Start Smart", and "Scale Fast". Accordingly, FPT introduced the solution package of "FPT Quickwin" - products that can adapt and bring efficiency promptly to enhance PC1's operational activities such as FPT.CFS Financial Reporting Consolidation Software, FPT Paperless Office, FPT.eLearning online training system... Besides, the Corporation also suggested other products and services that could support the business, such as ERP Enterprise Management System and the Production Operating System..., which were being implemented for numerous enterprises in the country and abroad. Moreover, the systems could be designed specifically for electrical construction operations, optimizing the electricity sector's value chain from the superstructure to the infrastructure.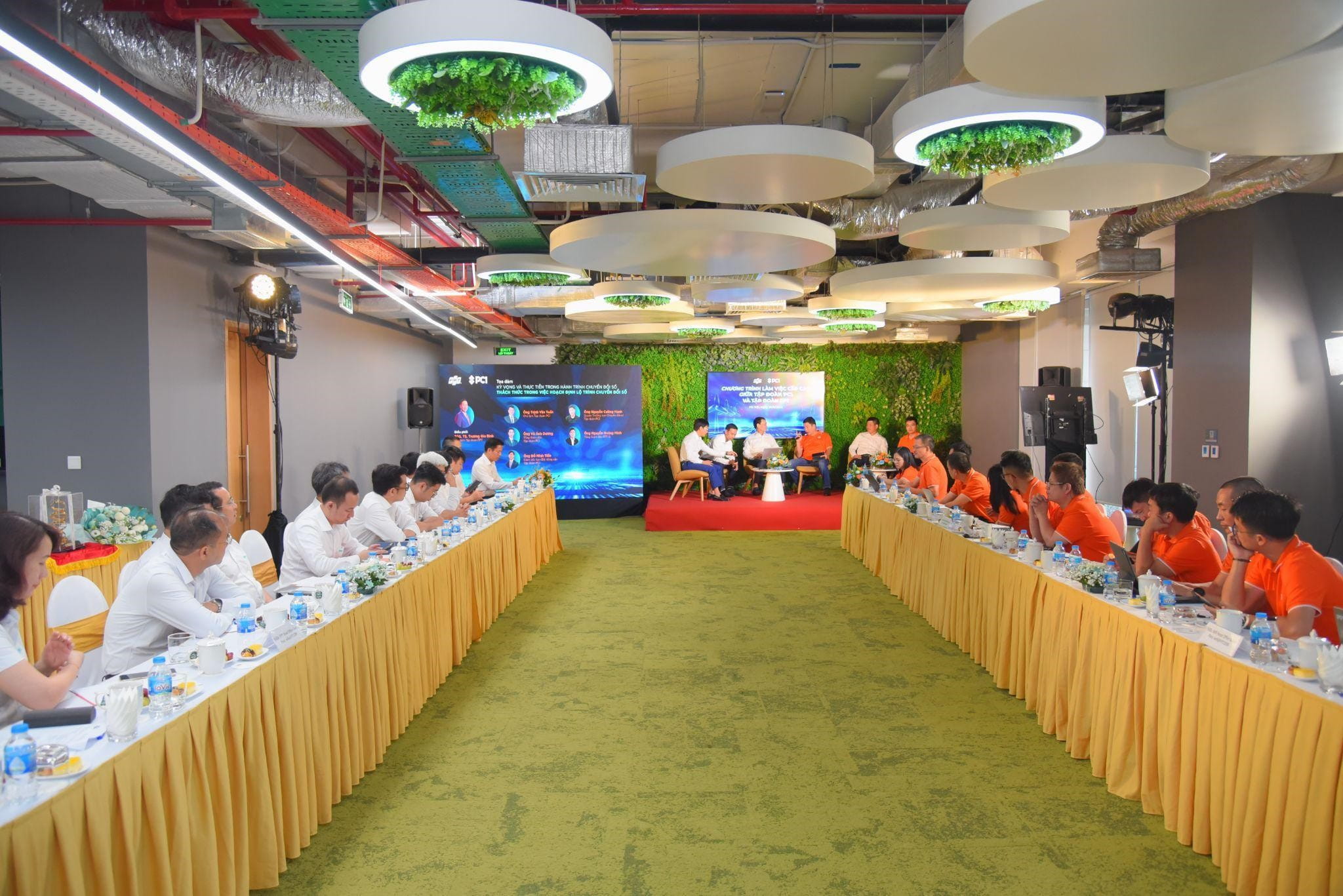 FPT and PC1 will continue to cooperate intensively and with determination to achieve their development goals
At the end of the meeting, the two parties jointly proposed a detailed action plan to implement some priority solutions to solve the urgent problems. In the coming time, they are expected to continue to cooperate intensively and widely, aiming to promote the synergistic power of technology and production with determination to achieve their development goals. Furthermore, based on its experience and outstanding technological capabilities, FPT is ready to accompany PC1 in its quest to realize digital transformation strategies.