CEO of FPT IS won the nomination of Vice President of the Vietnam Association For Information Processing
•
09/01/2023
×
The Vietnam Association for Information Processing (VAIP) held the 9th National Congress for the 2023-2028 term on January 6 in Hanoi. There were 154 delegates representing the community of research, teaching, management, business, dissemination, and application of information and communications technology (ICT) across the country attended.
At the event, Mr. Nguyen Hoang Minh - CEO of FPT IS - was elected Vice President of VAIP for the term. With nearly 20 years of work experience in IT, Mr. Minh believed that his new position would allow FPT IS to contribute strongly to developing the national digital transformation and implementing VAIP's goals. "In the coming time, FPT IS hopes to maintain its position as a bridge connecting various business fields, realizing the goal of making technology a competitive advantage and promoting the sustainable development of the digital economy in Vietnam", Mr. Minh emphasized.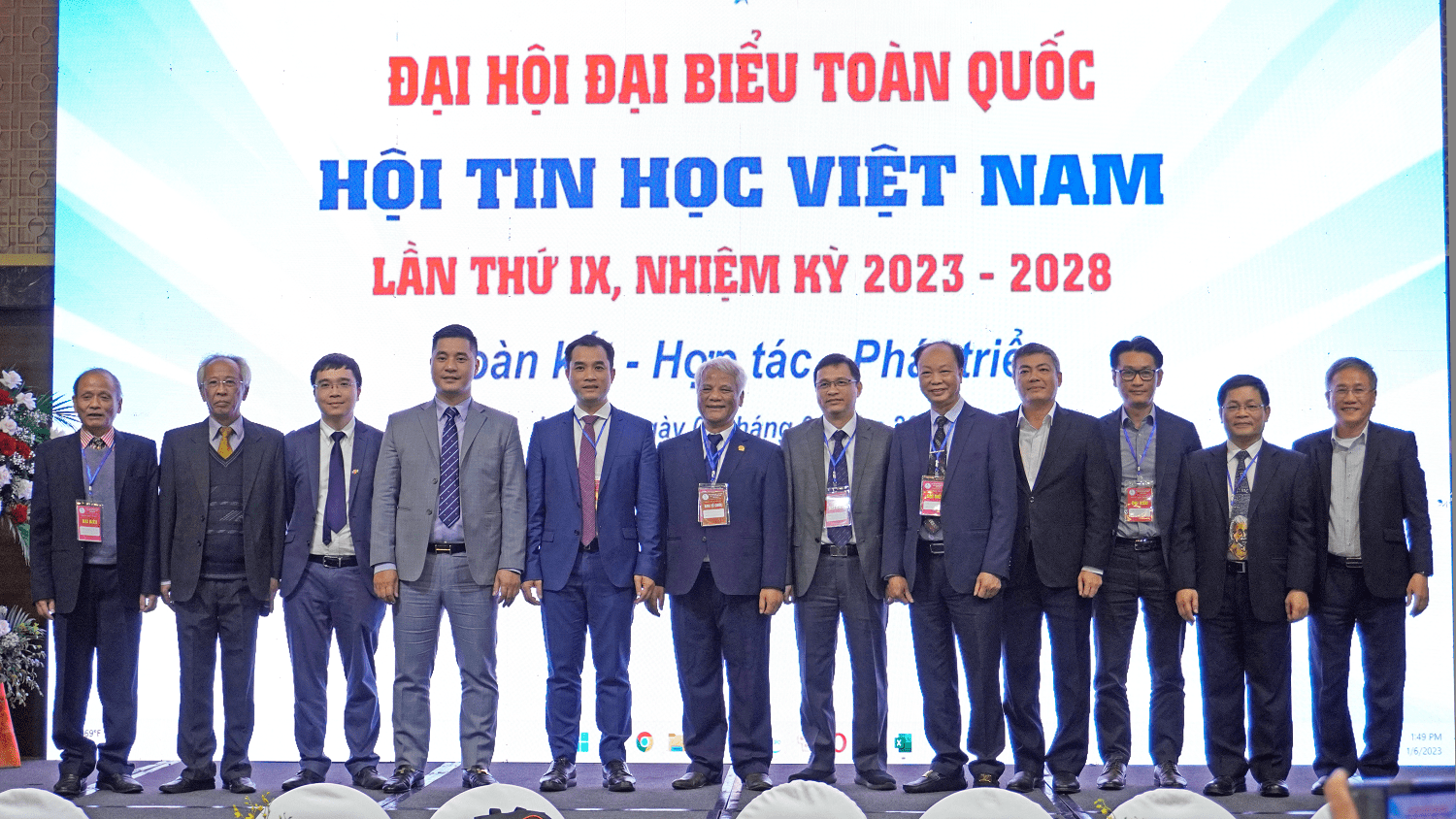 Mr. Nguyen Hoang Minh - CEO of FPT IS (the third one on the left-hand side of the picture) - was elected Vice President of VAIP for the 2023 - 2028 term.
Business networking is one of the issues raised in the orientation for the IX tenure of VAIP. In order to solve the problem in the new circumstance, the VAIP leaders would maintain their professional strengths to adapt to emerging technology trends, promoting practical business activities.
Mr. Nguyen Manh Hung - Member of the Party Central Committee, Minister of Information and Communications, and Vice Chairman of the National Committee on Digital Transformation - delivered a speech at the Congress. VAIP should recall its roots, he said. "Remember the first President, the founding leader of VAIP - Professor of Science Phan Dinh Dieu. Recall the initial goal: to gather forces to boost ICT activities for economic, social, scientific, and technological development in Vietnam. And last but not least was VAIP's motto - "Solidarity and cooperation for the development of ICT in Vietnam"".
The Minister affirmed, "Anyone and any organization who desire to go far must uphold the core values. Each generation must inherit the past to open up the future. So tell your own story but don't forget the initial mission of VAIP."
Mr. Bui Manh Hai, the newly inaugurated President of VAIP, emphasized that the Association had constantly grown in organizational structure and its activities in the last tenure. Furthermore, VAIP's members had been actively contributing to the development of Vietnam's ICT industry.
The Association had successfully promoted its role. The Executive Committee of the VIII tenure had completed most of the goals according to the specific action plans for each year. However, there were still some goals that needed to be fulfilled.
In the 2023 - 2028 period, with the motto "Solidarity - Cooperation - Integration - Development", the VAIP would resiliently strive to handle the unsolved tasks and implement the highly-agreed recommendations at the IXth Congress. Also, the Association's leaders would be determined to improve VAIP's operation and detailed activities as well as complete the orientations.