FPT hold Global Digital Transformation Conference
The conference attracted almost 100 experts, senior leaders from organization and billion corporation from America, Europe, Japan, and Asia Pacific Digital Pacific.
•
28/04/2019
×
Global Digital Transformation Conference held by FPT took place in 3 days 25th – 27th April with discussion sections, connection and interaction sections about topic such as Digital Transformation, the well-preparation of organization. The conference attracted almost 100 experts, senior leaders from organization and billion corporation from America, Europe, Japan, and Asia Pacific Digital Pacific is considered to help organization and corporation optimize operational cost, upgrade customer experience and create business model to enhance competitiveness.
In the Global Digital Transformation Conference happened in Ha Long last week, Mr. Truong Gia Binh, Chairman of FPT's BOD, stated that the target of FPT is becoming Digital Transformation Consultant.
"The persistent questions of organization is how to grow, how to gain more customers, how to acquire more profit; however the answer is very different and digital transformation company will exceptionally surpass. In another way, without digital transformation, the competitiveness will decrease and soon disappear". He emphasized that "In digital transformation process, organizations do the same tasks such as using AI, robot application so on, however the method and pathway of each consultant company is distinguished and FPT believe to be able to demonstrate the best way."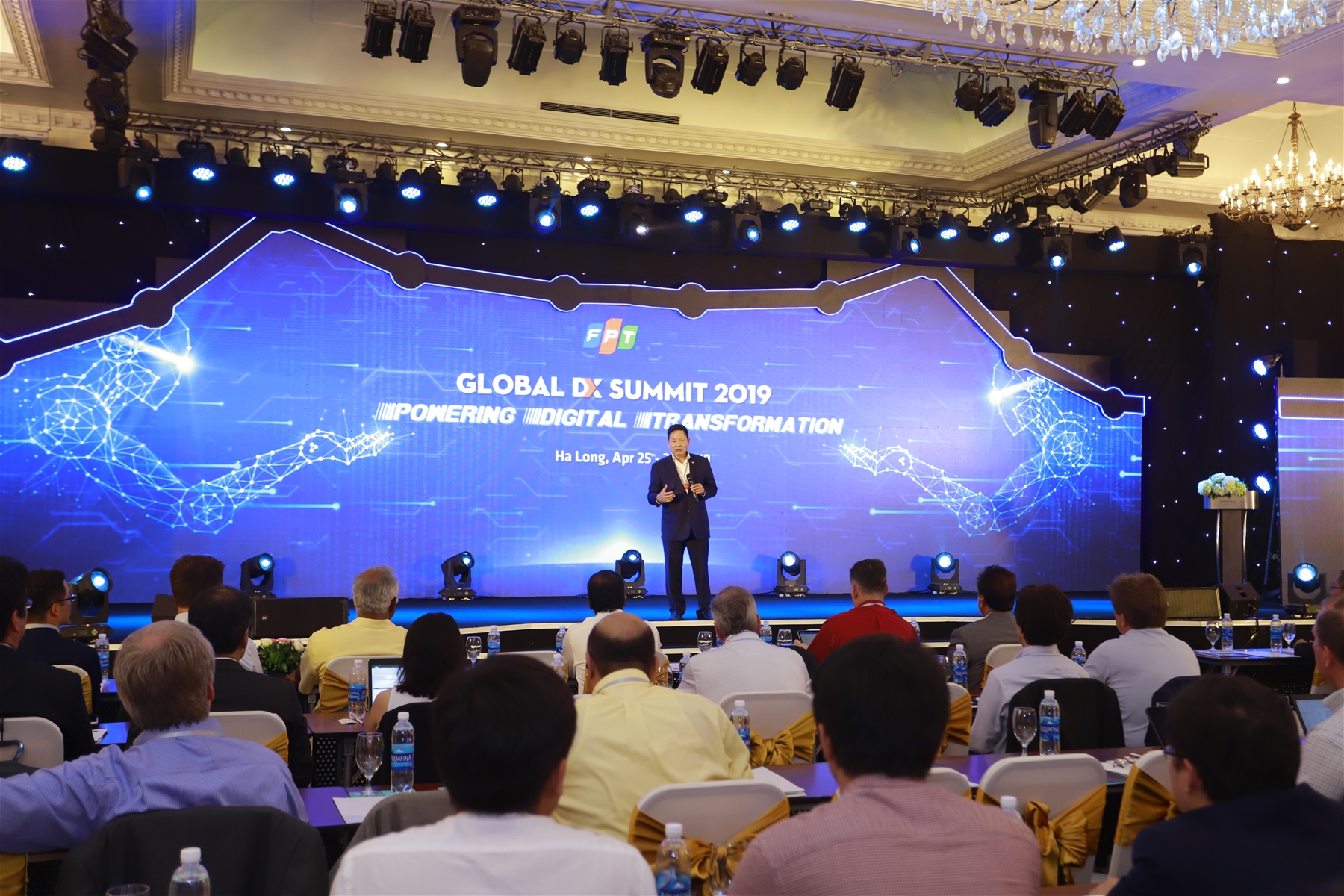 Chairman of FPT's BOD stated that the event is very different from precedent event due to the participation of one of the top company in the world such as Palantir, Siemens, PPAL, Grab, CapitalLand, Singapore Airlines, Hitachi, Toshiba, so on. At the conference, the experts didn't discuss about digital transformation method but sharing about practical experience, the experience from successful people, which enable the chance for many companies to deeply understand the benefits and the challenge of digital transformation of pioneering organization.
"Customers are changing extremely fast, they use internet and have more need with product and service. They can easily shift to another supplier with only a click if they are not satisfied. In the market, competitors is continuously changing and becoming stronger and stronger, therefore, digital transformation is a must" Mr. Binh appointed.
Meanwhile, Mr. Phuong Tram, Chief Consultant of digital transformation Department of FPT stated that a company can become world-class only when they parallel shift to another superior IT underlying.
"All organizations will turn to digital organization in the future. Technology, business procedure and experience share among communities will go together. Every organization shares the same interest: what is the way to apply each year, each month, each week since the technology is always changing" Mr. Tram explained. "There are 3 things to do. First is preparation from leader aspect. The leaders need to know what they want and how the transformation technology of their company is. Second is preparation in organizing aspect. The participation of the whole organization is a need to transform. We need to train and improve the human resources. Third is preparation in technology. This should be simultaneously enhanced along with human resources factor". Mr. Tram believed digital transformation is an opportunity for Vietnam to breakthrough since everyone is equal in this playground.
At the conference, Dr. Ho Tu Bao. Vietnam Institute for Advanced Studies in Mathematics showed that digital transformation is an advanced change in organization, a strategy, not just simply as technology. Both SMEs cannot say no to digital transformation and digitalization in operational procedure which need proper investment.
Meanwhile Mr. Nikhil Dwarakanath, Chief of Grab Data Analysis Department shared about digital transformation lessons while constructing car booking application. Grab is presently growth fast with more than 3 billion bookings on app. From car booking service, the companies has expanded to another products such as shipping, food purchase, so on. They need to create more optimizing underlying to enhance customer experience. All users can see on screen is car booking cycle of customers and the drivers, however there is a much more complicated system behind. Hence Grab have to analyze the big data related to driver's behavior, customer need, road defined function and real time navigation.