FPT Telecom reaches 1 million household customers using IPv6
On August 31st, FPT Telecom reached 1 million household customers installing and using the IPv6 (Internet protocol version 6) after more than a year of deployment on a large scale
•
01/09/2017
×
On August 31st, FPT Telecom reached 1 million household customers installing and using the IPv6 (Internet protocol version 6) after more than a year of deployment on a large scale.
IPv6 is the new generation of Internet addresses designed to replace IPv4 in Internet activities. With 32 bits in length, IPv4 space includes about 4 billion addresses for global network activity. IPv6 is designed to replace IPv4, with two basic purposes: to replace the depleted IPv4 source to continue Internet operations and to address the shortcomings in design of IPv4.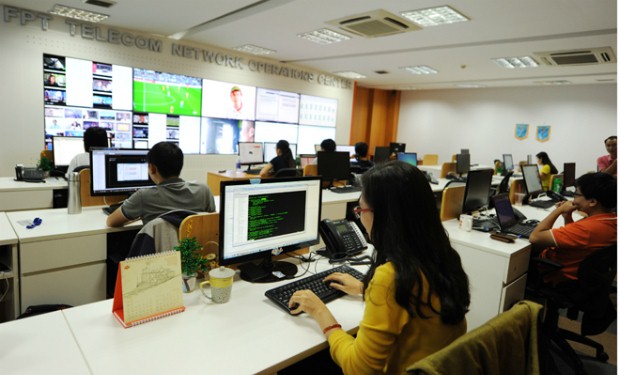 FPT Telecom Engineers at Service Monitoring and Assurance Center
According to Mr. Luong Duy Phuong, director of FPT Telecom Network Operations Center, the shortest key word is "IPv6 is 40% faster." The bandwidth is remained but the transmission method is different so IPv6 carries more information than IPv4, thus it is faster. "For example, customer uses five IP cameras. With the old IPv4 protocol, customer has to configure the forward port five times with five different ports on the modem. With IPv6, the user does not need to configure NAT anymore because public IP is used," Mr. Phuong analyzed.
Mr. Phuong also stated that with IPv6, everything from home appliances to automated devices can be connected. He pointed out six benefits of IPv6 including: Routing more effectively, Processing information packages more efficiently, Saving bandwidth, Simple network configuration, Supporting new services and Security.

The one-millionth household customer of FPT Telecom was recorded at 8am on August 31st
According to Asia-Pacific Network Information Centre (APNIC), as of July 2017, IPv6 penetration rate in Vietnam was about 7%, the peak time being up to 25%; with over 3.5 million IPv6 users as stated by Cisco Labs. Currently, Vietnam ranks second in ASEAN (after Malaysia) and fifth in Asia for IPv6 deployment (after India, Japan, Malaysia and Macao). Particularly, FPT Telecom is the leading network operator in the country. APNIC claimed that the application rate in FPT Telecom's IPv6 network is about 28%, seven times higher than the national average.